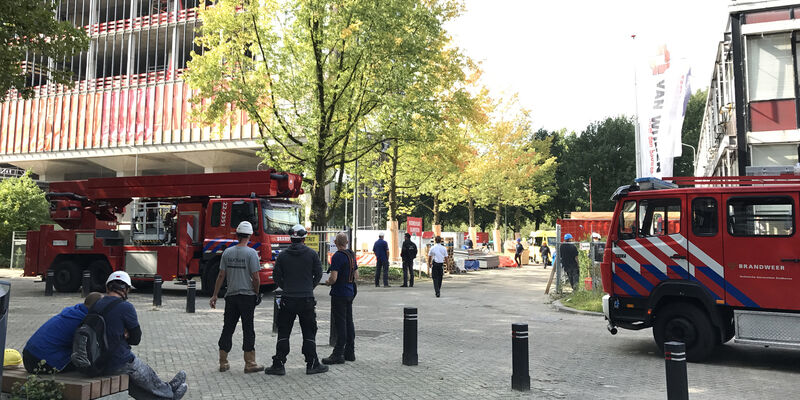 Emergency services called out to three incidents on campus
A construction worker in TU/e's Atlas building fell from one floor to the next while working on Thursday morning. An elevated work platform brought in specially was used to get him back down to the ground. The emergency services were also called out this morning for two first-aid cases elsewhere on the campus.
by
Monique van de Ven
The TU/e campus was the scene of a lot of comings and goings, with flashing lights and sirens, shortly before noon today. The fire service, ambulance and police were called out to Atlas where a construction worker had just fallen from the third to the second floor. The storey floors in the former Main Building - which is currently undergoing renovation and where hundreds of people are working every day - lie partly open. "It is one big building site over there," says Eric van der Heijden of the TU/e fire service.
The circumstances surrounding the construction worker's fall are not known to Van der Heijden. But he does know that the victim landed on a concrete floor, and suffered considerable pain but did not lose consciousness. The construction worker was brought down the outside of the building with a special cherry-picker elevated platform provided by the fire service to ground level. He was taken to hospital by ambulance. Van der Heijden cannot yet say anything about the man's injuries or how he is now doing.
The building was not, he says, evacuated, with the exception of the second floor. "As it happened, the work break had just started and many construction workers were already outside."
Student unwell
At almost the same time a report was received from the Multimedia Pavilion, where a student had become unwell. The victim, confirms Hay Becks of TU/e security, had undergone an operation on her leg earlier in the week "and it was giving her a great deal of pain".
The student, he believes, passed out for a couple of minutes. First aid was administered by those attending a first-aid course that was coincidentally being held in the same building; the student was afterwards taken to hospital by ambulance.
An hour earlier an ambulance had already been called to the TNO building on the south side of the campus. A man, an employee of TNO, had complained of having chest pains. He did not need to be taken by the ambulance but went by taxi to the hospital for a checkup.