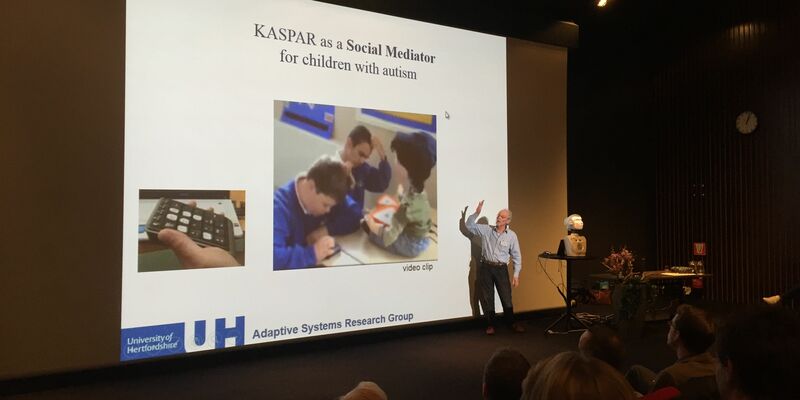 Robots as stimulus for children with autism
How can you use robots to encourage children with autism to communicate and interact? Ben Robins, researcher at the University of Hertfordshire, has been trying to answer this question for some years now. With the help of robot Kaspar he has already achieved promising results. He presented them with verve today during the meeting of the TU/e Center for Humans & Technology, at which various researchers spoke about the interaction between people and machines.
Why are you using robots with autistic children?' It is the question that Robins finds himself answering most often, he tells his audience Thursday afternoon in the movie theater on the first floor of the Zwarte Doos. His answer follows quickly: "Robots are predictable, safe, simple, and reliable." And that is exactly what children with autism need.
Robins is keen to stress that the robots should be seen as mediators and that the aim is for them to encourage better interaction with real people. In view of this, one of the research questions is whether the children become attached solely to the machine or whether the robot elicits social behavior. "Is a robot a social isolator or a social mediator?" In the short films he shows, it is clearly evident how children react to robot Kaspar, who has limited facial expressions. The robot does not operate autonomously, but an accompanying person can use a remote control device to initiate reactions, such as saying 'hello' or indicating that what the child is doing hurts. This approach evidently works with many children, and encourages contact with flesh and blood people. One of the films shows how a young boy suddenly points out a pigeon to Robins and in this way makes contact. In another film a mother tells how after having contact with Kasper, her child was able to indicate the difference between happy and sad.

Robins emphasizes that every child is different and that the effect is therefore different. "We can't say, 'play this piece of music and the child will react this way or that'. Moreover, the various forms of autism different greatly." To an audience question about the long-term effects, he can give no answer. "I would like to do more research on that, but regrettably, we don't have the necessary resources." Twenty Kaspars are in existence around the world, and one of them is in the Netherlands, at the Zuyd University of Applied Sciences in Geleen.
Robins gave the first lecture of the afternoon program. Later pediatrician Gert Jan van der Burg spoke about the educational role that robots can play with children with diabetes. Eric Wesselman, a partner at KPMG Technology, shared his vision of what is needed in order that greater use can be made of social robots in the near future. TU/e scientists Raymond Cuijpers and Peter Ruijten told the audience more about the interaction between people and robots and the need for them to better understand one another. In addition, various TU/e PhD candidates gave poster presentations about their research.
The TU/e Center for Humans & Technology focuses on the relationship between people and technology, and the influence they have on one another.