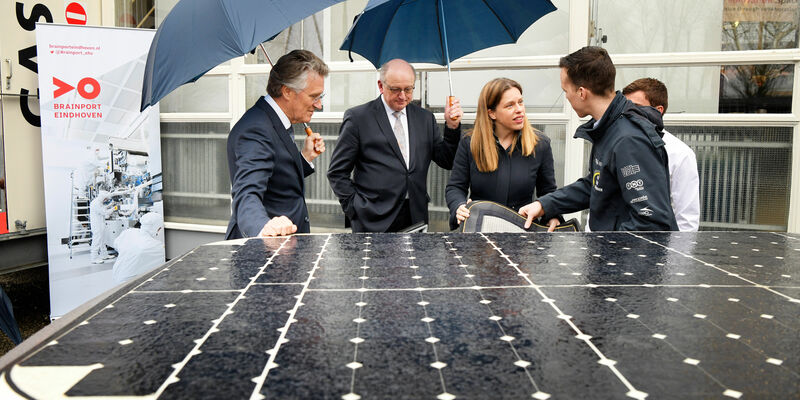 People

,

The University

16/03/2018
Minister delivers envelope containing 130 million
TU/e innovation Space received a visit Friday afternoon from State Secretary for Economic Affairs and Climate Mona Keijzer, and Ministers Kajsa Ollongren of Economic Affairs and Carola Schouten of Agriculture, Nature and Food Quality. The latter carried an envelope containing 130 million euros, intended as extra funding for Brainport Eindhoven. They were treated not to dry speeches by administrators but to explanations by inspired students that highlighted the cooperation between various knowledge institutions and industry.
"That three members of government have come from The Hague to TU/e innovation Space on a dreary Friday afternoon must mean something significant," says Eindhoven's mayor John Jorritsma. He is present in his capacity as chairperson of the Brainport Foundation (Stichting Brainport) and is referring to the public funding announced this afternoon.
Before a single official word is said, the ministers are given a guided tour, taking in a soccer-playing robot, a team in the Smarter Life Challenge, TU/ecomotive, AMIGO, and the Abby Bike. The Minister of Economic Affairs even climbs onto STORM Eindhoven's electric motorcycle. Entrepreneurs and students are on hand to show that when it comes to cooperation between education and industry in this region, everything is A-OK.
But that was already common knowledge. It is the reason why, when allocating 950 million among six regions, the cabinet chose to apportion 130 to Brainport Eindhoven. "The money is a building block in the sustainable relationship between the region and the government," says Schouten. "As well as being important for Brainport, this is important for the whole of the Netherlands."
The official moment is introduced by program maker and TV buddy Isolde Hallesleben. To the members of cabinet : "How odd to be receiving you in an abandoned old gas lab, while at Brainport we have top labs and cleanrooms. You even had to enter by the back door. But this is where you can feel the vibrant spirit of the student teams. Now, I know that people from Brabant are very modest, so as a Montessori child raised in the western conurbation I say to you: the cooperation between this university and vocational education in high schools and universities of applied sciences is an outstanding success."
Numbers
Carola Schouten describes the way in which the amount is revealed - one by one nine students, each with a number of his or her back, turn round - symbolic. "Because this boost is intended for this - international - generation."
Kajsa Ollongren says later: "As an Amsterdammer, going to Eindhoven usually means a challenging away-game, but this time it is different. I am amazed by what is happening here. I am impressed by the cooperation between education, entrepreneurs, and government." Mona Keijzer tells that she was in Brainport back in January and even then found it mind-blowing. She has five sons and promises to bring the three with an interest in science to visit TU/e sometime. "But I'll also be taking them back to Volendam."
Attracting technical talent
TU/e Board President and board member of Stichting Brainport Jan Mengelers is pleased with the 130 (of the requested 170) million. "The region itself is now investing 240 million euros. We will be building up photonics and establishing the 'Eindhoven Engine'. We can make an impact in the area of care and the level of facilities, and we can improve livability." The focus of the forthcoming projects will lie on attracting, training, and retaining technical talent.
Mengelers points out that structural funding will also be coming from national government. When exactly the next envelop will arrive, he refrains from asking today. "Right now it's party time." And, when asked, Minister Ollongren talks around the subject in suave political fashion. "In a few years we'll take another look at what we have to distribute." To the question whether she will be attending the future opening of Matrix as TU/e innovation Space's new premises, she is equally vague: "I like coming here". But what has been officially confirmed this afternoon is that the cabinet and Brainport Eindhoven are entering into a long-term relationship.