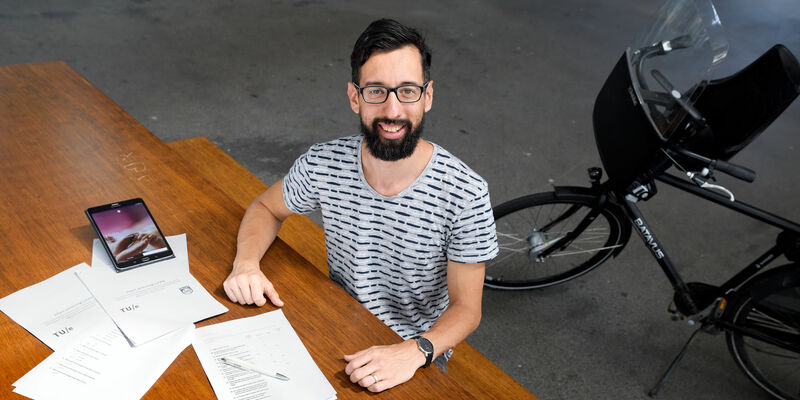 Home Stretch

,

Research

30/05/2018
Home Stretch | Character-based decision aid
It is hard to choose - especially when the range is practically limitless, as it at Netflix, Spotify and Bol.com. Which is why online services like these suggest products based on previous purchases and viewing or listening behavior. As a PhD candidate, Mark Graus proved that you can make better recommendations if you build a psychological profile of the user.
Anyone visiting the internet store Bol.com has the choice of some 16 million products. Especially if you don't know exactly what you are looking for, a specific recommendation can make all the difference, helping you to see the wood for the trees. But these kinds of recommendation systems can be greatly improved, says Mark Graus, PhD. He realized early on, while completing his Masters' final project, that recommendation systems apply a fairly basic approach: they do not form an impression of the person behind the user, they look only at observable behavior, such as previous purchases. "Yet if you add a layer of understanding to the data, the recommendations can be greatly improved."
This sounds fairly abstract, but he gives an example to make it concrete: "If I see my wife ordering a lingerie set, I can assume it is for her. If my best friend does that, it is probably a gift for his girlfriend." This is an interpretation that a person makes very naturally, but it is not natural for a computer. "What a computer knows is that someone who buys running shoes often also buys running socks, but a person understands that someone with this behavior is probably a runner, and therefore likely to be interested in running-related accessories." And that is relevant information for web stores, because better recommendations often result in more purchases and increased customer satisfaction.
Various online services use a rating system; Netflix is a well-known example. But this isn't something that works optimally, says Graus: "Everyone gives documentaries five stars, and films with crude humor like American Pie only three. Yet what everyone's actually watching is American Pie, not the documentaries."
Psychology
Inspired by what he had learned during his final project, Graus felt that enhancing recommendation systems with insights taken from psychology would make a good subject for doctoral research. Last Thursday that earned him his doctorate. Getting there was by no means plain sailing: his research proposals to grant providers came to nothing, after which he got in touch with internet consultant Adversitement in Uden.
There, he was able to spend one day a week on his doctoral research, working in cooperation with the Human-Technology Interaction group, because the subject was so relevant to his consultancy work for the company. He then moved on to subsidiary O2mc, but when that went bankrupt he found himself looking once again for somewhere to continue his research. Happily, he was able to join an existing impuls project with Philips, where he did full-time research for three years.
User types
Dividing users into different types is a useful thing to do, according to Graus, if you want to make a good recommendation. The examples he studied included the use of an app-controlled air purifier. "Some people used the app solely to operate the device, others to collect information about air quality. So you find that people use a system in different ways."
He then applied this insight to an app produced by Philips for young parents, uGrow, which provides informative articles about matters such as breast feeding, sleep rhythms and the baby's development. "I had just become a dad myself, so I found it easy to see things from the users' point of view," says Graus. "The app automatically suggests next articles, based on previously read texts. I compiled a questionnaire to establish the parenting style being used: warm or distant and strict or, conversely, relaxed. It turned out that categorizing by the type of parent based on this questionnaire was a better predictor of which articles would interest the parents than which articles they had previously read." By making a psychological profile, he was able to make better suggestions - an encouraging result for his specialist field.
Happily, Graus will have plenty of opportunity to develop his insights: after a chaotic start, he will be continuing his academic career as an assistant professor at Maastricht University.