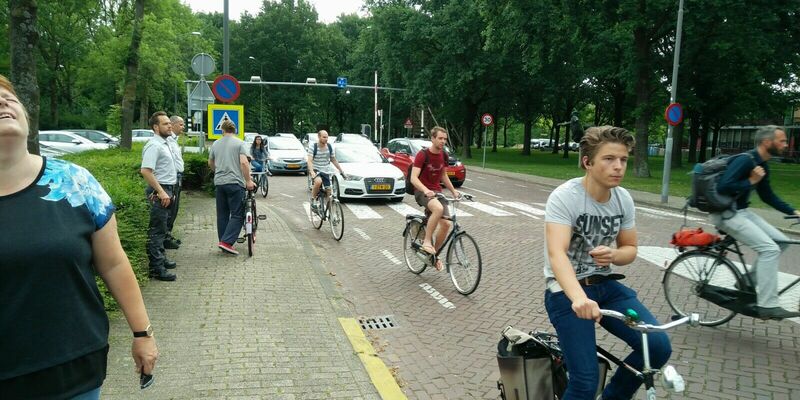 The University

31/05/2018
Not cycling to work today
"I get here quicker by car", "My bike's broken " and other reasons are given by TU/e people to the question why they did not come to work today by bike. Today, as in previous years, this last Thursday in May is national Cycle to Your Work Day (FNJWD). Cursor spoke to TU/e people near the car park to the north of the Auditorium.
Bachelor's student Bauke Brekelmans steps out of her Fiat (actually it's her parents' car) and explains that coming to TU/e by car is not an option for her. "By car it takes half an hour from Udenhout, and by train it is fifty minutes." Her public transport season ticket is in a drawer at home. She knew about the FNJWD but did not feel the urge to participate.
Once Marc Louwers, co-worker at HR Services at Built Environment, has taken a minute to finish listening to the news on his car radio, he has time to tell us that he often cycles to work. "Most days. I live less than four kilometers away." But today of all days he has lent his bike to his girlfriend (hers is broken), but then he didn't know it was FNJWD.
From Hoogeloon, some 19 kilometers away, comes Emiel Roefs (second-year BMT), who lives at home with his parents. His journey would take an hour if he came by bus. The Toyota he saved the money to buy gets him to the campus a whole lot quicker.
Master's student of Data Science Auke Schoeman jumps out of his car to run to a lecture. He is already late but still wants to stop and say that he comes from Tilburg and is no longer entitled to a public transport season ticket.
There is a cyclist. It is professor Jack van Wijk (also scientific director of the Data Science Center Eindhoven (DSC/e), who will be leaving his bike in the Auditorium's basement cycle shed. For him, every day is FNJWD. That today is a special day (because it's a national event), he hadn't realized. "I deliberately looked for a house within cycling distance of my work. The journey takes me 10 minutes."
A Kia brings Marko Boon, Assistant Professor of Mathematics, to the car park near MetaForum every day. He, by contrast, took the deliberate step of going to live farther away from his work. "Out of the city." He very much enjoys living in Bladel and his only wish is to see a train line built between Eindhoven and Antwerp that runs past Bladel. "The only thing I'm missing is a train station."