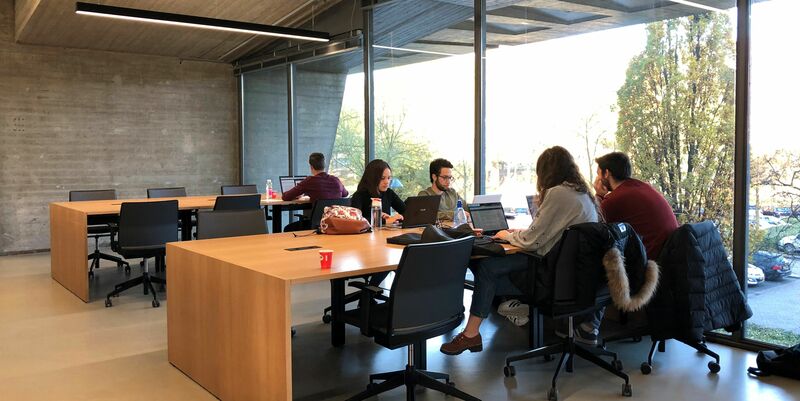 What does the ideal place to study at TU/e look like?
TU/e students are less satisfied with the study places on campus, tells the Dutch Student Survey. In order to be able to improve this, a research will be conducted in the Auditorium from November 19th to map out the wishes of students. During the nine-week pilot, a reservation system will be tested simultaneously.
"The study places at the TU/e campus scored a 3.8 on a scale of 1 to 5 at the Nationale Studenten Enquête (Dutch Student Survey) of 2013. In 2018 this figure had declined to 3.2", says Peter Engels, project leader of this pilot." The TU/e wants to work very seriously to improve this. Instead of making plans for the students behind our desks, we first want to hear from them what it is they need and want."
Since 2016 it is possible to reserve study places via Book My Space (BMS). Engels: "BMS is mainly used for spaces. There are hardly any students who book study tables, although that is possible in Vertigo, MetaForum and Flux. You could conclude that a reservation system is not the answer to increase the satisfaction of students, but it is an important part."
Claiming
That is why there will be 122 study places in the Auditorium which include tables with a socket and an adjustable chair. These study places will have a sticker with a QR code. This allows students to 'claim' a table when they sit down. The tables can also be reserved from home via the Book Space tile on My TU/e. A third way to claim a place to study is by putting a table on your name via the white interactive screen next to the coffee machines on floor 1.
Anyone sitting at one of these tables can get a visit from one of the student assistants who are hired by the Internal Affairs Department to count and talk to the participants. They ask the students to fill in a questionnaire on paper. Those who participate – not anonymously - will receive a 1.50 euro voucher that can be freely spent in the canteen. In collaboration with the Service Housing and Education & Student Affairs Department, IAD hopes to find out how the student experience the reservation system, whether there is an objection to a maximum reservation time of two or four hours and a few more things.
Own students first
"The TU/e wants to be hospitable, but give priority to its own students", says Engels. "Non-TU/e students and other guests are allowed to use the sites until a TU/e student has made a reservation. We make that clear in English with an extra sticker." He predicts that reservations will be a must in the future because of the expected growth of the student population.
During the pilot, which will last until February 1st for the examination period of Q2 to be included, the need for quiet spaces in the Auditorium will also be assessed. Twelve tables on the west side will be stickered on floor 2 to function as concentration areas, where little or no talk is allowed.