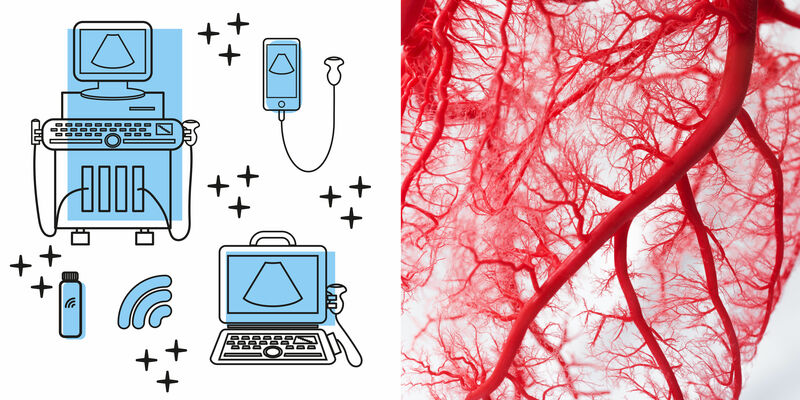 Rubicon grants take TU/e researchers to Israel and United States
TU/e researchers Ruud van Sloun and Tommaso Ristori have been awarded a Rubicon grant. The grant enables them to gain two years' experience at a foreign institute or university. Van Sloun will be doing research in Israel on the artificial intelligence necessary to create smarter and better echography. In the States, Ristori aims to understand how new blood vessels form.
The application submitted by Ruud van Sloun, assistant professor in the Signal Processing Systems group of Electrical Engineering, was rated very highly. "Almost unbelievably highly," he himself says. "It finished in first place in my domain. As an assistant professor at the start of your career, it is important to show that you can acquire funding and deserve a place," he says.
A Rubicon application is completed in cooperation with a foreign institute or university. In Van Sloun's case that's the Weizmann Institute of Science in Israel, where he will be going. "During my doctoral studies I had already worked with professor Yonina Eldar. she is a celebrity in the field of signal processing. We share the same view of how we can make medical imaging better, cheaper and more intelligent."
Echography
When we say medical imaging, we specifically mean echography. Van Sloun: "When medical image processing is required, a CT or MRI scan is often made. The latter piece of equipment costs some two million euros and is gigantic. An ultrasound scanner by contrast can be operated with a smartphone or tablet and costs two thousand euros. If we can make these images just as good as those of an MRI scan, it'll have a big impact. Think of developing countries, where the money for expensive MRI scanners is lacking. Using echography there would make all the difference."
Van Sloun's approach starts not with the interpretation of the images taken by the scanner, but before a scan is even made, on the sensor side. "We want to use artificial intelligence right from the raw sensor data stage. You need to be applying intelligent algorithms to the first signal, so that the system can learn to improve itself from then on, not wait until the image has been made. By then it is too late to reap much of the benefit."
Since the emergence of echography, sometime in the 1950s, the image reconstruction technique involved has not changed substantially, says Van Sloun. If he has his way, artificial intelligence will soon change that. "I enjoy understanding things, but mainly I want to see real impact."
New blood vessels
Tommaso Ristori is a postdoc at the Soft Tissue Engineering and Mechanobiology group in the Department of Biomedical Engineering. He will be using his Rubicon grant to understand how new blood vessels form. His research, carried out at Boston University, will ultimately contribute to the development of treatments for diseases such as cancer and ischemia.
Ristori is originally a mathematician, but he gained his PhD in 2018 from the Department of Biomedical Engineering. "My experience is chiefly in the field of computational modeling, so I have less lab experience. I am keen to expand my expertise, and so I chose to do this research. By combining sophisticated computer models and experiments I want to unravel the interaction between various cellular signals that direct the healthy and pathological formation of blood vessels." Because the role this plays is still not fully known.
Ristori will leave for the States by early September at the latest, to do research at Boston University under the supervision of professor Christopher Chen and dr. Katie Bentley. "Chen is preeminent in the field of tissue engineering. Bentley's specialist field is computational modeling."
Cancer
In order to understand angiogenesis (the formation of new blood vessels), both experiments and sophisticated computer models are required. Ristori wants to make a new model bringing together all the factors that play a role in the formation of blood vessels. Eventually this can be used in, for example, tissue engineering; to get nutrients delivered throughout the tissue requires knowledge of how blood vessels are formed. But cancer cells too depend on the supply of nutrient-laden blood in order to grow. "It would be great it you could disable this, so that you could, as it were, starve a tumor," says Ristori.
When Ristori heard that his application - his too was one of the most highly rated submissions - had been approved, he jumped for joy. Thanks to the grant he will be able to live and work in Boston for two years. After that he hopes - with the knowledge he will have gained in the States - to return to Europe. "My aim is to have a career working in academia. But that is something for the future, I'm taking things step by step, one day at a time."
Awards
In this funding round the research financing institution NWO awarded seventeen Rubicon grants to researchers at the start of their scientific career. Seventy-seven applications were received. The program offers young, promising scientists the opportunity to gain international research experience.