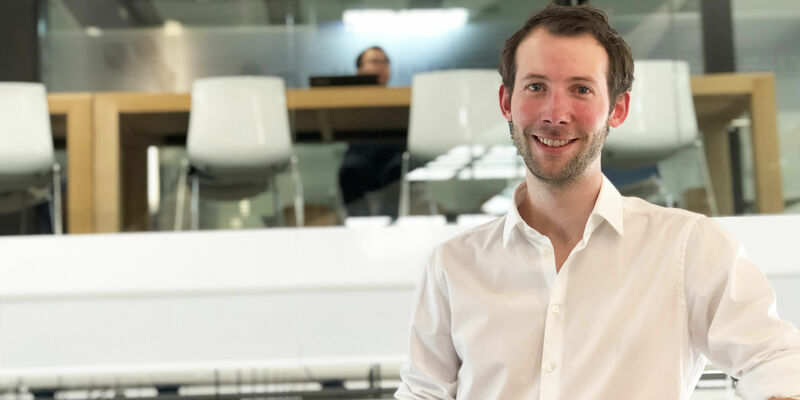 People

,

Research

02/07/2020
TU/e academic Ruud van Sloun in Elsevier's '30-under-30' list
His name stands on the '30-under-30' list compiled by Elsevier Weekblad. Evidence that he is regarded as one of the talented young people from whom we will be hearing a great deal, the future influencers in the Netherlands. Assistant Professor Ruud van Sloun remains modest. "Given the company I'm keeping on this list, I can't help but be proud, but there's also an element of luck."
Yes, of course he is pleased to be included on the list of talented young Dutch people. "I wasn't familiar with the list, but last year it included Max Verstappen. That's cool," says Van Sloun, assistant professor in the Signal Processing Systems group at Electrical Engineering.
"The list is broader than just science. They look at who has made an impact here in the Netherlands. For my work as assistant professor in ultrasound and artificial intelligence, this is terrific."
Lung ultrasound for corona
Not just anybody makes it onto the list; you have to have done something special. With the corona crisis, a great opportunity landed in Van Sloun's lap, and it was his response that drew him to Elsevier's attention. Together with a team of four doctoral candidates, he developed the artificial intelligence for ultrasound machines so that they can establish within minutes whether any parts of the patient's lungs are sick, possibly due to corona virus.
Above all, Van Sloun is grateful that he got the chance to do this work. "I got a phone call from a colleague in Italy: 'We are working on a COVID-19 project involving ultrasound. Can you help us?' I quickly got in touch with four doctoral candidates and asked whether they wanted to join us. We spent three weeks working together as a team of five, going hard at it from early in the morning until gone midnight. It was an awesome experience."
Luck
Van Sloun emphasizes that it was a team performance. "I may be the one who said, 'This is interesting, we're going to work on this,' but the credit for the hard work goes to the team."
Nonetheless it was his name that was picked up by the media. "I think that's how I caught Elsevier's eye." What his modesty prevents him from mentioning is that a year earlier he had already won a Rubicon grant . "You need a little bit of luck. As chance would have it, in this present situation a whole series of dominoes fell the right way."
Professor
Don't confuse Van Sloun's modesty with his ambitions; they are sky-high. "I didn't get to be in this position without being hugely ambitious. I want to become a professor, of course I do, and preferably as soon as possible. Jan Bergmans is giving me a huge number of possibilities and the belief that I can grow quickly."
"Coaching people gives me a real sense of joy, it's what gives me energy. Managing a team and setting the direction, making sure that everyone can work well together, for me nothing tops that."
Doing things differently
Having said that, his chief wish, and he'd like to see it fulfilled very soon, is to introduce his research into artificial intelligence in ultrasound into clinical practice.
"My vision is to see artificial intelligence used at the start of the process, when the patient data is being collected. You shouldn't be letting it loose on the images produced by the ultrasound device. You need to be working deep in the systems, building in all kinds of intelligence, so that the quality of those images is greatly improved. That's what my team and I are doing differently from everyone else."
The result of this approach should be the next generation of radiography or ultrasound capable of making suggestions. "We are going to expand this further, together with Philips, in order to get this innovation to users as soon as we can. Ultimately, that's what you're looking to achieve."
More TU/e people on the list
Van Sloun is not the only person on this year's list with a TU/e link: Bram Cappers, alumnus of Computer Science, is included for his startup AnalyzeData. He and his company are working with KPN and the Dutch national police force on cyber security. Cursor has previously reported on his doctoral research.
Similarly, BMT alumna Eline van Haaften, now a system tester at Philips, is also on the list. She gained her doctorate for research on biodegradable tubes that change into living blood vessels as soon as they are introduced in the human body. In 2019 Cursor interviewed Van Haaften about her research.