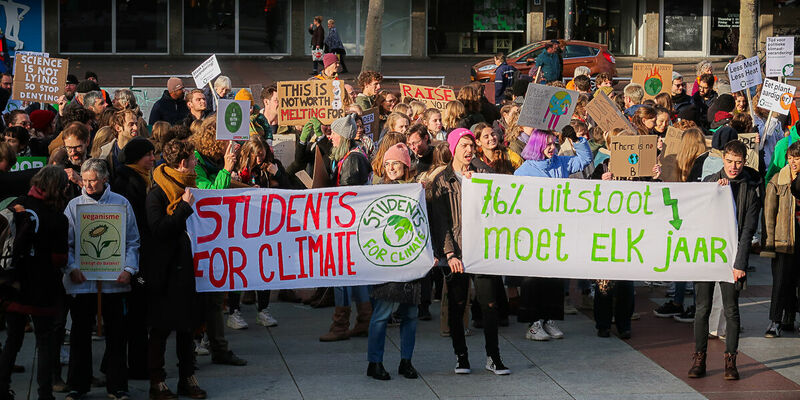 Student climate club wants to give Eindhoven a wake-up call
Students for Climate Eindhoven, which partly consists of TU/e students, wants to give Eindhoven a wake-up call and get people to engage in a conversation about climate. Last Friday, about two hundred people took part in a climate protest in the city organized by the group. Co-initiator Yavor Razboinikov, bachelor's student Sustainable Innovation: "We wanted to protest peacefully, and I think we succeed in that."
Some two hundred people – a rough estimation by the Bulgarian TU/e student – called attention last Friday in Eindhoven to the problem of climate change. The initiators opted for a protest this time, "because it attracts the most public attention," Razboinikov says. "Eindhoven needs a wake-up call, and we want people within all layers of society to discuss this issue."
The student believes that the group was quite successful in achieving its goal, although he does still see a few points for improvement. "We walked from Markt to city hall this time – from a crowd of people to a quieter place. The other way around would have been better in retrospect."
The student says that the group certainly doesn't intend to structurally call attention to the problem by organizing demonstrations. "We want to take a constructive approach, and one of the things we're thinking about is entering into a discussion with counsilor Rik Thijs, who is responsible for climate policy. We prefer dialogues, instead of expressing ourselves through shouting." In February, the group wants to join a worldwide climate action and hold a protest in Eindhoven.
TU/e students
The regular members of Students for Climate Eindhoven – which is made up of ten members, five of which are students at TU/e – will meet today to discuss their plans for the future.
The group was recently formed by a few TU/e students who were part of the activities committee for Technology for Global Development, Razboinikov says. "We wanted to take it to a broader level and contacted several others, including students who are involved with GO Green Office, or who study at Fontys." The students hope for more collaboration within TU/e to help bring more attention to their goals. "Some people from certain associations stated that they don't want to get involved in politics, but that's not what we do – we just want to create awareness."
About his personal motivation, Razboinikov has the following to say: "Others often use the argument that we have to do it for future generations, but personally I believe that the turning point is now, and that we're destroying the environment. We need to take a closer look at our energy sources and how we use them. Take these lamps in this building for example (he points to the lamps up in the Auditorium, ed.) – why do all of them need to be switched on when there's no one here?"
Student for Climate Eindhoven is the Eindhoven branch of Students for Climate, which started in Belgium and is now active in several different cities. "We don't have much contact with each other but we have similar goals – that is why we joined that group," the Sustainable Innovation students explains.
The Eindhovens Dagblad recorded the demonstration on video (in Dutch).