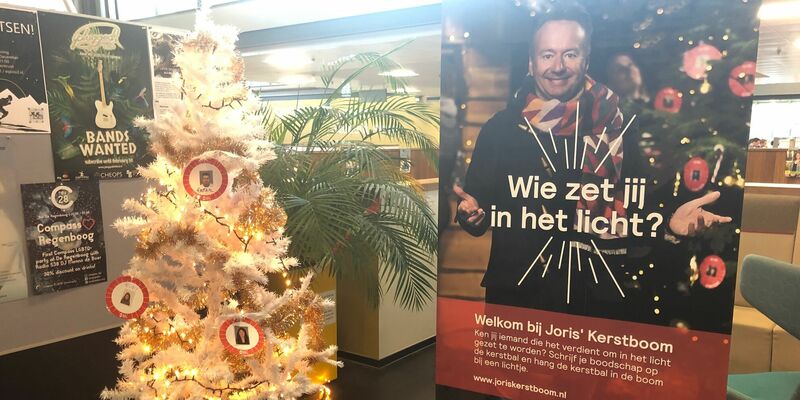 Using Christmas baubles to put special people in the spotlight
Do you want to support a fellow student, do you have a wish for your parents, or do you have a message for a lecturer? As of yesterday, you can hang a Christmas bauble with a message for that person in the Christmas tree at the reception desk of the TU/e library. The university is thus joining the national campaign of 'Joris' Kerstboom' (Dutch TV show, translated as 'Joris' Christmas tree'), which enables people to hang a photo with text between the pine branches and therefore putting the spotlight on that person.
When she heard about the campaign, Geraldine Suijkerbuijk (TU/e employee at the Information Expertise Center) did not have to think twice. "I regularly hear stories from students who miss their families, for example because they are abroad. This can be a great opportunity to "put a spotlight on them."
On day 1, only messages from employees of the Information Expertise Center are hanging in the tree, which is located at the reception desk of the library, but the accompanying table with paper Christmas baubles displayed on it invites you to join the initiative. The tree may not be that big, but if the messages will no longer fit in at some point, the library will find a solution.
TV show
In 11 city squares, in more than 200 libraries, around 50 schools and in 31 Resto VanHarte neighborhood restaurants, people were given the opportunity to participate in the campaign. TV recordings are made at some locations in the Netherlands, but that is not the case at TU/e. For the tenth year, the TV show Joris' Christmas Tree, whereof episodes will be broadcast in December, makes people think about a special person in their lives and offers a place to share their stories. You can also show your gratitude online.
The Christmas market on the campus will start next week. In this article you can read more about the program.