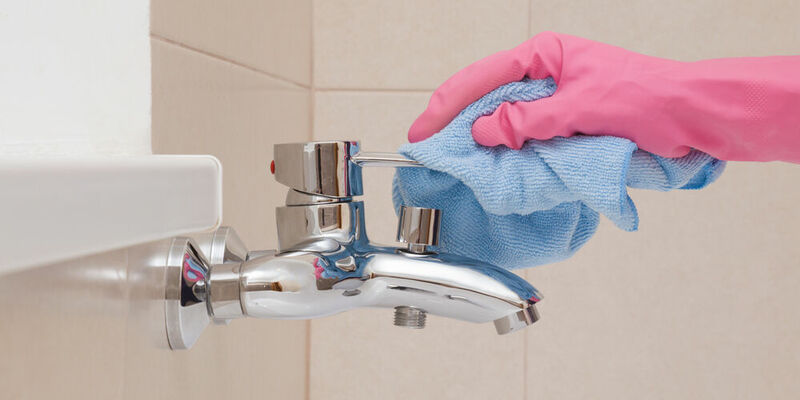 The University

,

Campus

11/12/2019
New cleaning company makes hospitality a priority
The name of the cleaning company that will be keeping the buildings at TU/e spick and span from now on is Asito. More than a hundred Asito employees dressed in blue uniforms and using new cleaning carts will start work on the campus after the Christmas break. The contract - for a maximum of nine years - will be signed on December 16th during a festive lunch held in De Zwarte Doos.
Every day 190,000 square meters are cleaned on the campus. In recent years the number of people using the buildings has increased, and they are in use for more hours a day. As of January, Asito will take on this cleaning task. Originally from Twente, the company was chosen from six contenders in the European procurement process. "They had what TU/e was looking for," says Bertie Fijneman, Facility Services coordinator.
What TU/e was looking for comprised four elements, according to Jeroen Zegveld, TU/e's strategic buyer. "We were looking for a company with flexibility, capable of collaborating, that recognizes the value of employee welfare and that embraces corporate social responsibility. Asito is promising us all this."
Asito's implementation manager, Maarten van Wezel, explains. "We have a proactive attitude when it comes to collaborating with caterers, refuse collectors and security. If we come across used cups in an empty meeting room, we'll discuss the best way of clearing them up. And who needs to do that. When we see a broken light fixture, we will report it. It's all about creating a fine environment where the TU/e community can work and study."
Hospitality
Furthermore, 'hospitality and experience' are highly prized at Asito. In addition to hundreds of cleaners, four forepersons and a project leader, the company will be providing two employees tasked with keeping a special eye on the well-being of the customer (students, TU/e personnel and guests) and Asito's own employees. They will do this by keeping their eyes and ears open and striking up conversations, at the coffee dispensers, for example.
In the TU/e buildings Asito's cleaners will be both visible and available to talk to. "The days when cleaning happened out of sight are long gone," says Fijneman. "Cleaners are no longer anonymous and each of our cleaners will be wearing a name badge showing their first name."
Corporate social responsibility will be exercised in practice by hiring staff in vulnerable employment groups. "The Participation Act has not yet been passed, but TU/e wants at least one in twenty of Asito's workforce to be someone who falls under the act," says Zegveld. Implementation manager Van Wezel is keen to go one step further; in the year 2021, 10 percent of employees must be in this category, and in 2024, 15 percent.
New carts
Refuse collection, which from now on will be seen as a separate task - distinct from cleaning - will be carried out as of 2020 using new carts. These have the same five compartments as the Tulip refuse bins on the campus. TU/e would like the job carried out in the evening so that at night there are no food scraps that could attract fruit flies or worse.
The contract will be signed on December 16th in the presence of six Asito employees, among them a cleaner, a window cleaner and a foreperson. "We feel this is an important moment and we are proud of every new client," says Van Wezel. Fijneman has thought of marking the occasion with a festive lunch in De Zwarte Doos, "because it's a great contract, and that's something to celebrate." She is also keen to mention that the working relationship with GOM has always been pleasant. "Most of the eighty people involved will continue on Asito contracts. Eight people have opted to stay with GOM and to move to another work environment." The new contract will run for at least five years and can be extended twice for a period of two years. After this, another mandatory procurement process will be held.