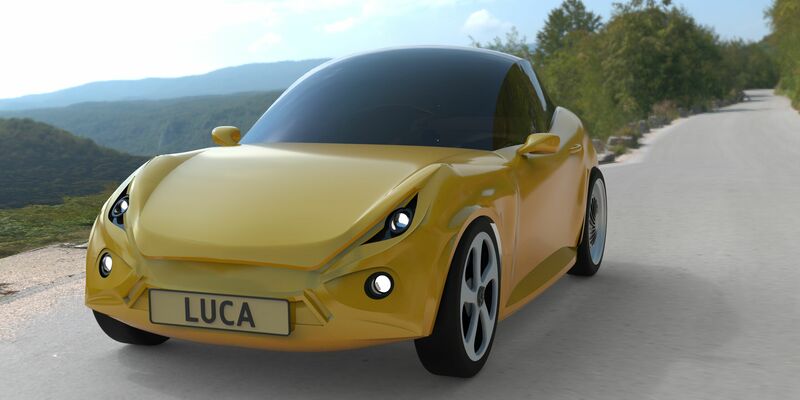 'Waste car' Luca has to make environmentally-conscious driving sexy
Embrace Waste. That was the main message during the presentation of the design of TU/ecomotive's sixth car: Luca. The team revealed the design for the first time in a moderately filled lecture hall in Atlas and explained its new message: together, we need to deal with waste more responsibly.
Traditionally, TU/ecomotive tackles a certain societal issue with each new car. The team was once founded with the aim of building a useful and energy-efficient car for the Shell Eco marathon, but it forged a new path last year with Noah. 'The world's first circular car' will now be succeeded by a sportier model that has to make 'environmentally-conscious driving sexy,' says Chief Design Tenjin Fujita during the presentation. The car is made largely of recycled waste. After all, the team aims to make a contribution to the reduction of plastic waste and the landfills that are emerging globally.
That is why TU/ecomotive is joining forces with, among others, an Israeli startup that converts household waste into so-called ubq materials, which are used for the car's undercarriage, partially at least. The other half is made of recycled polypropylene. The team also uses recycled PET bottles for the sandwich structure, and flax (which they also used for the previous cars) for the rest of the bodywork. Even though there is a limit to the recyclability of PET bottles (about ten times), the cycle is at least prolonged this way, Technical Manager Sietze Gelderloos explains.
Sporty look
The basis of the car remains largely the same; a light, electrically-powered model, but with a sporty look this time. Team Manager Matthijs Van Wijk disputes whether the sporty two-seater might in fact perhaps increase the waste problem, since the car seems to be aimed at hobbyists. "I certainly wouldn't look at it like that. The average number of passengers in a car is 1.6. So, for a large number of rides, this is just fine. We know that many people need more space once a year, when they take a vacation, for example. But I'm convinced that we all need to make some small sacrifices to solve the problem of climate change."
It took a while before TU/ecomotive broke radio silence, and the main reason for this was the development of the previous car. "We wanted to improve the finishing of Noah and we didn't have time for that before the presentation. That is why we added another six months," Van Wijk explains. The team then worked on the new design for eight months. "We started again with ten people in February and now we are with twenty."
It's still not clear exactly how the team plans to publicize the project. What is certain however, is that a return to the Eco marathon is no longer possible. "The general consensus is still that the team made the right decision," Van Wijk says. "We saw that our recent cars could not compete. We were always in two minds and we are happy with the attention Noah received last year, and still receives."
And what will the team do instead? It still needs to think about that. In any event, Luca has to be finished by June 2020. "We agreed on that as a final date; eventually, we will have to start studying again. It has to be finished by then. After that, we would like to go on a promotional tour, but the exact details with regard to that are still unclear. We want to show the car to as many people as possible."