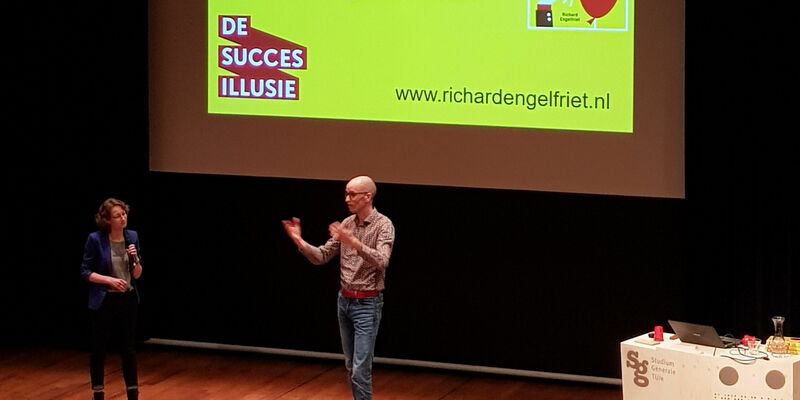 "Management methods for success are never tested"
Trainers, guru's and authors of bestselling management books. To Richard Engelfriet they're fair game: targets he likes to shoot at. Because not one of the fancy methods, catchphrases and techniques they throw at the public is based on any kind of scientific research. So, it is a full house this afternoon in the Auditorium, filled with a critical audience of mostly hardcore engineering students.
Richard Engelfriet starts his presentation – or may we call it a stand-up comedy routine? – with a simple experiment. In front of him stands a cup and next to it two more cups, stacked on top of each other. An audience member has to decide which cup has to go and which one can stay: the single cup or the two stacked cups? A somewhat confusing discussion unfolds until Engelfriet eventually crushes the single cup with his hand and reveals several carpentry nails standing upright underneath the two stacked cups. It seems as if the audience member decided which cup Engelfriet had to crush. At the end of his presentation, he explains that he always makes the decision, even though the audience is under the illusion that this isn't the case. "But don't forget under which cup you've hidden the spikes," he warns.
Engelfriet has been making a living as moderator, guest speaker, columnist and researcher since 2001 and has written several management books, of which 'The Illusion of Success', 'That's how simple it can be' and 'How to catch a rat' are the best known. This afternoon, he has come to give trainers and guru's who offer formulas for success a verbal lashing at the invitation of Studium Generale. Engelfriet lists a wide array of formulas for success.
"Supposedly, the SMART principle (a method also used during year-end performance reviews at TU/e, ed.) substantially increases a company's chances for success. That sounds logical, but no one ever tested if that's actually true. People often refer to a well-known research conducted at Yale University, but that turned out to be a fabrication. Or Simon Sinek's golden circles. Also not based on any scientific research, but on a collection of anecdotes instead. Sinek adds neurobiology to the mix, but researchers in that field consider his theory pure nonsense."
Chance
Other people, as well as your surroundings, Engelfriet believes, determine your chances for success. And we should not ignore the importance of chance. "None of these stories about how you should fight after a setback or passionately long for something to make it happen can be scientifically proven, unlike, say, the effect of a medicine."
Engelfriet says that practically every book on how to become a success is based on a poll designed to ask successful people obvious questions. "The results are never tested in the field. I once asked the author of a management book how certain issues, such as how to be a conscientious worker, were addressed in a poll, and he told me he had asked people whether or not they had a tidy desk. If so, you were conscientious, and as a result you were successful as well."
In conclusion, Engelfriet, who trained as a sociologist, claims there is no off-the-shelf method for success. "Of course, you may believe so, but then it would be more like religion."