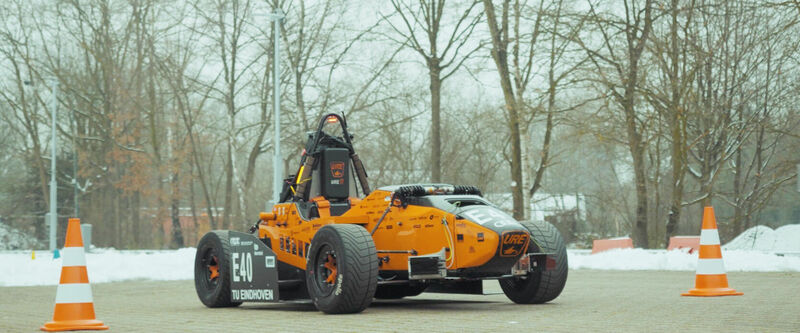 Research

,

Student

29/01/2019
URE covers its first meters with self-driving racing car
In the race against the clock to build the first self-driving racing car in the Benelux, URE has made significant headway. This is something the Eindhoven-based racing team started developing in 2017 and it has now reached an important milestone. In December the team's racing car took its first independent steps, an event shrouded in secrecy.
"We aren't there yet, but we're well on the way," as Rense Nijenkamp, head of the Driverless project at University Racing Eindhoven, explains it. "We are now deep in the implementation phase. The entire system, including sensors, is already working, but we need to make it more robust." Thus it's a matter of testing and fine-tuning.
Last week URE shot some footage for its announcement of this happy event. The snow that had fallen a few days earlier did nothing to dampen the high spirits. The team had skillfully cleared the track in preparation for showing what it has achieved. However, with a view to ensuring safety and to make filming easier, it must be said that the meters were driven in a 'preprogrammed' mode. This means that the car follows a pre-programmed path, but operates its own components.
Detection
So not entirely self-driven, although the car is capable of driving itself. "I would have been happier if by now we'd made more progress," says Nijenkamp on the matter. "Because in competition, a system that isn't robust is actually worthless. The problem concerns the detection of cones; the car is still having trouble coping with the conditions. Whether the sun is shining directly on the camera or the rain is pelting down, the car must always be able to see the cone," he explains. "If we were to have the car self-drive now, there would still be a chance that it would miss one."
When it comes to the battle to produce the first self-driving racing car in the Benelux, URE now faces competition from Delft. Dion Engels, URE team manager, is claiming victory, but not unreservedly. "For the time being we are the first team to self-drive," he says, "but the competition is still to come and, of course, the result achieved there is what it's all about."
In the coming period therefore URE will be working to improve its driving system. The processing of the data received from the sensors still needs some further work. Eventually, the car must be able to recognize cones entirely independently, so that it can steer itself without any need of human assistance.
The camera footage shows a converted URE11, the car driven in 2016. Eventually, the equipment will be transferred to the new car, the URE14. This is the car with which the team will be entering this year's major competitions. URE will be attending at least Formula Student Germany and Formula Student Netherlands.