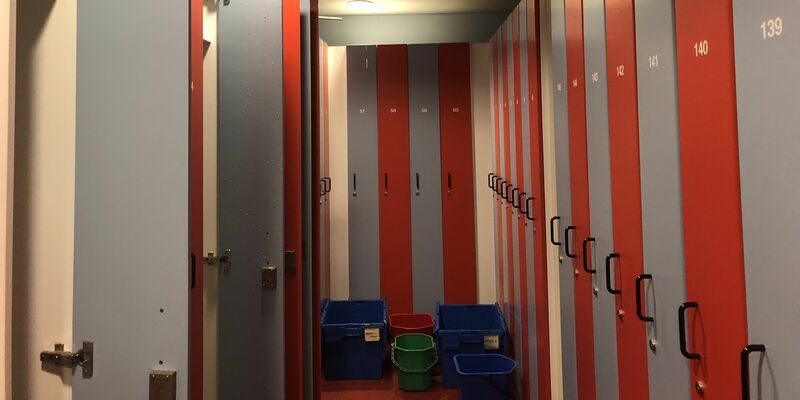 Leak in Auditorium repaired, academic regalia will be cleaned
About forty gowns will go to the dry cleaner, the floor of the gown room is being cleaned and the facilities in the storage room of Physics are still being tested. As we take stock, the consequences of the leak in the basement of the Auditorium seem to be milder than expected. The cause, a blockage in the sewer system, has been solved.
Cleaners were already busy last Tuesday to fix the worst (water) damage that was caused earlier that day in the gown room and in the Physics storage room. The buckets and trays that were hastily placed by Auditorium and GOM employees collected the water that seeped down from the ceiling plates and ended up in some wardrobes. To prevent more damage, they removed a few gowns from the area.
And although most of the gowns are in protective covers, at least eight gowns were smeared in such a way that they need to be thoroughly cleaned, says Henk Naterop, coordinator audiovisual facilities from Internal Affairs. He expects that around forty gowns will have to be dry cleaned. "We are still making an inventory of which gowns have to go to the dry cleaner, but if they are even slightly damp or dirty, they will be cleaned." According to Naterop, there are enough spare gowns that can be used for academic ceremonies while the others will be cleaned.
Not penetrated into the floor
A few wardrobes are still being cleaned and the floor has been partially cleaned and that work continues. Naterop: "Because the floor has a bottom layer of bitumen, the water has not penetrated into the floor."
The area a little further away, the so-called Physics preparation lab, was partly flooded. Naterop: "It seems that the more expensive items were further away from the water and that now only some dated installations which are no longer being used, are damp. But that will be checked later." Real Estate Management will coordinate the handling of the aftermath.
Result of a blockage
The leak was a result of a blockage in the sewer system, explains Freek van den Eijnde, technical manager at Real Estate Management. "Static pressure built up in the sewer and found its way to two weak spots in the pipes, where in the past two installations were connected that are now no longer in use. Unica employees first temporarily sealed the pipes and permanently welded them the next day. The blockage is gone and the pipes have been checked as a precaution. The problem should be resolved now."