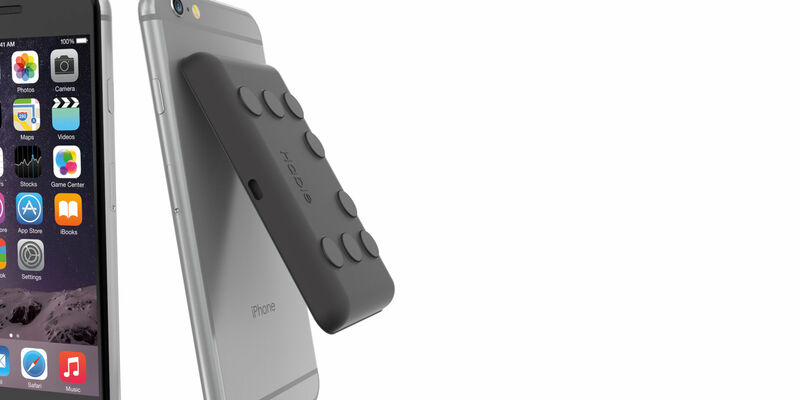 Research

,

Student

06/06/2019
Hable allows the visually impaired to app with braille
TU/e startup Hable Accessibility will deliver the first models of Hable, a braille keyboard for smartphones, at the end of June. This will allow the visually impaired and the blind to type app messages on their smartphone using braille so that they will no longer have to record messages. The four TU/e students recently won the Rough Diamond Award during the Philips Innovation Awards with their product.
It will not make them rich, Freek van Welsenis and Gijs Leemrijse are sure about that. But that wasn't the objective of their startup Hable Accessibility. "It's really cool to make something that people use, to have a social impact with that. That's very special, that is why we do it," says Leemrijse, bachelor's student Computer Science and Engineering and the technical man behind Hable.
Hable is Spanish for speaking. And that is what the braille keyboard for smartphones does: converting words typed in braille into a normal alphabet, numbers and punctuation. "But the word 'able' is in there as well, and we like that, because Hable 'enables' visually impaired people. It makes it easier for them to communicate on their smartphone," says Van Welsenis, bachelor's student at the department of Industrial Engineering and Management Sciences, and one of Hable's co-founders.
Privacy
Of course, the visually impaired can already app and use social media on smartphones via speaking software. "Visually impaired people currently often use voice-to-text, but this means that anyone can listen in," Van Welsenis says. "This method is also prone to error, and constantly having to speak into your phone is simply very inconvenient. If it wasn't, everyone would be doing it. Another alternative would be a large keyboard, but they cost a couple of thousands of euros."
The advantage of Hable is that it can be affixed to a smartphone and that it easily fits in your pocket. The students aim for a purchase price of about 400 euros. The click-on Bluetooth keyboard has eight keys; six for braille and two function keys. "Combined, they can essentially do the same things a standard keyboard can," Leemrijse says.
Inventor
Master's student of Industrial Design Ayushman Talwar is the man who invented Hable. His grandfather in India slowly became blind and had difficulty communicating with his smartphone, which had a touchscreen without tactile keys. Talwar made the first prototype of the braille keyboard for his grandfather.
When he started to study Industrial Design at TU/e, he decided to enter the TU/e Contest with his idea. He won the ASML Makers Award. "That convinced us to continue," Van Welsenis says. Talwar asked Industrial Engineering and Management Sciences student Tom Kersten, who was on a team that wanted to make a backpack for the blind at the time, to join in.
Leemrijse and Van Welsenis completed the startup team. "The visionary, the business people, and the product engineer; the perfect team to make the transition from idea to company," Van Welsenis says. "All of us combine Hable with our study, but in all honesty, I have to say we spend more time on this than on studying."
In the meantime, the team presented Hable at the Dutch Design Week and the Dubai Design Week, and in order to obtain funding they participated in several competitions, including the Philips Innovation Awards where they won the Rough Diamond Award. Approximately 250 startups signed up for this competition. "In addition to winning 10,000 euros, what we really got out of it was the coaching from major companies," Van Welsenis says. "That really helped us a lot, but so did the network you get as a result of this competition."
Early adopters
Their presence at the ZieZo exhibition for the visually impaired in Utrecht was perhaps even more exciting than the Philips Innovation Award, because that is where they got to present their prototype to their target group. Leemrijse: "It was wonderful to see how a visually impaired person took our prototype and immediately managed to get a sentence out of it. That made us work even harder on Hable."
The exhibition resulted is a number of pre-orders. Those will be delivered to the early adopters at the end of June. Van Welsenis: "We think of them as very important clients; they gave us a lot of feedback. They took the first step, which is very brave. They really liked the prototype we showed them at the exhibition, but the version they will get in a few weeks is significantly better."
Van Welsenis: "We have conducted many user tests, because if you're not blind yourself, you don't know what to think of." Leemrijse adds: "I know how to read braille a little bit, but I look at it, I don't feel it. That's really an entirely different experience. That is why we work closely with visually impaired and blind people; we discuss updates with them and conduct many tests on a regular basis."
A major pilot is scheduled for the summer: "We are going to provide fifty people with our product, for a period of three months. They can put it into practice and try it. That way, we want to refine it even more before we enter the market with it. The product needs to function from an ethical point of view as well; you owe it to the people you work with," Van Welsenis says.