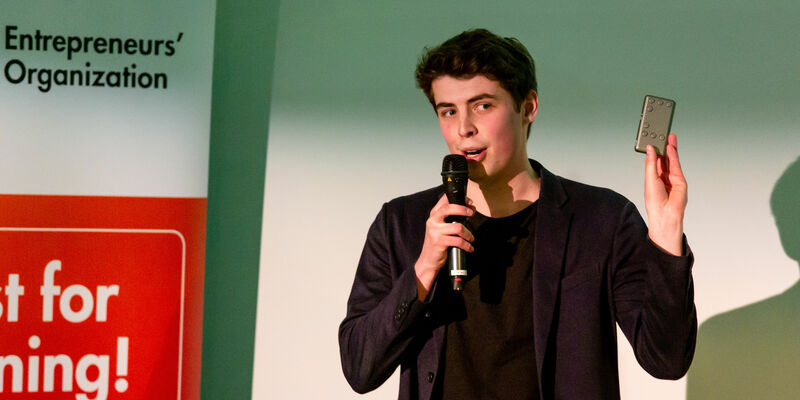 Braille keyboard up for Global Student Entrepreneur Award
When Freek van Welsenis won the Dutch edition of the Student Entrepreneur Award 2020, he received a plane ticket to Cape Town and ten thousand euros for his company Hable. In South Africa the startup, which develops a smartphone keyboard for the blind and visually impaired, stands the chance of winning the award for best company in the world and of adding 120,000 euros to its budget.
Honesty, perhaps that's his secret weapon. Freek van Welsenis won the Dutch finals of the Global Student Entrepreneur Award 2020 (GSEA) with his company Hable, and believes that the jury was impressed by his story about the mistakes he made and what he learned from that. The jury praised Van Welsenis' great passion for Hable's practical solution to a global problem, and thought his plans for the future showed much entrepreneurial insight.
TU/e startup Hable Accessibility develops a braille keyboard for smartphones with which the blind and visually impaired can type messages in braille on their smartphones and swipe through webpages. Participation in GSEA was on a personal basis, that is why Van Welsenis didn't bring co-founders Ayushman Talwar and Gijs Leemrijse (both TU/e-students) along with him to Rotterdam. His parents and friends, incidentally, weren't present during the evening of the national finals either. "I didn't want to put too much pressure on it, and I didn't think it was that special. But I have already benefitted a great deal from it, and that's more important than I ever imagined," says the best student entrepreneur of the year.
Not easy
"The combination of running Hable and finishing my studies is not an easy one," Van Welsenis admits. He works for Hable fulltime and studies for his Master's Operations Management and Logistics in the evenings. He missed an exam because of the pitch in Rotterdam, which means he'll have to take a resit.
The founders have been working without pay for two years now. Van Welsenis expects that this will change within two months, and that they will carry on as a private company. Hable currently has a team of six people.
Cape Town
It's hard work, especially during this first financing round, which will last until the summer. And in the meantime, Van Welsenis will also travel to the finals in South Africa, that was his prize. Starting April 26, he will be a guest for three days at GSEA in Cape Town together with forty-nine other national champions. There, they will receive coaching to finish in the top seven that gets through to the finals. The winner of the finals will receive 120,000 dollars.
"And the network I have at this point is so valuable already," the Master's student of OML says enthusiastically. "I was immediately offered help, and people from the Entrepreneurs' Organization gave me advice. I receive pitch trainings so that I'll be prepared as best as possible for the presentation in Cape Town. And I'm also welcome to ask them anything I want."
Future
Hable wants to use the 10,000 euros it won in Rotterdam for internationalization. An Industrial Engineering and Management Sciences student, Robert de Kerf, has already started a marketing research in the United States as part of his professional traineeship. "How does it work over there with health insurance companies, what are the characteristics of the blind and visually impaired in America, and how do you enter a foreign market like that?"
Hable's product will shortly go on sale in the Netherlands during the ZieZo exhibition (about living with a visual impairment-ed.), whichwill take place on 13 and 14 March. At the end of the year they want to increase the production of their product to over one thousand for the European market. Van Welsenis is very confident. "The blind and visually impaired in Europe are early adopters. They are very enthusiastic about new developments with smartphones that can help them."
The next step Hable wants to take is learning braille through gamification. Currently, only ten percent of the blind and visually impaired can do this, so there's still a world of opportunities for Hable-says Van Welsenis. Pure entrepreneurship, according to the jury.