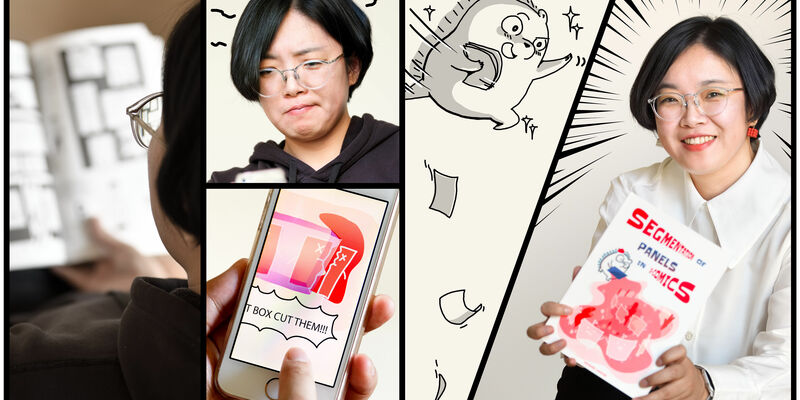 Home Stretch

,

Research

13/03/2019
Home Stretch | The changing face of comics
Comic books are increasingly read digitally, on tablets or cellphones rather than on paper. Yet cartoonists are still designing them as if they are destined for paper publications, with the page as the natural unit. And that is a shame, says ID researcher Xinwei Wang. Her doctoral research - including a basic manual for digital cartoon design - should encourage cartoonists to add more interaction.
As a little girl, Xinwei Wang preferred to sit with her nose in a book than to run around the playground. And even now she still likes to end the day by reading a good comic, only now they are usually in a digital format.
And although more and more comics are being published digitally, in the new media their design often falls short. In the majority of cases the paper version is simply transferred to the digital environment, without being adapted to suit the tablet or cellphone format.
Because Wang is keen to see more good online strips, now and in the future, she decided to study new approaches to web comic design in which interactivity is pivotal. This week she is gaining her doctorate at the Department of Industrial Design, with a thesis full of self-made cartoons and - naturally - a summary in comic format.
According to Wang, a freelance cartoonist as well as a comic fan (interne link), it must be clear right from the first drawings that the cartoon is web-based. "Often those early drawings are still made on paper and unwittingly that physical space imposes limitations. In a web context the design freedom is infinitely greater, and that means another way of thinking is needed. Unfortunately, there are few cartoonists with a really good digital mindset. Moreover, they often cross over and start designing other digital media, such as games."
Page turner
Open a comic book and you'll see a page full of pictures - panels - that tell a story. At the bottom right of the page is the panel with what's called the 'page turner', a surprising element designed to encourage the reader to keep on with the story.
The way in which the panels are grouped often depends on how the cartoonist wishes to tell the story, explains Wang. "When a paper version is digitalized, the story-telling technique is usually lost. The number of panels that fit on a tablet or cellphone screen is different from on a paper page; the reader zooms in and out. Nonetheless, it is still important that web comics break down into units; the way the reader processes information remains the same and we like to see 'bite-sized chunks'. This means that web cartoonists also need to arrange their panels into subgroups and need to go in search of new forms of storytelling and alternative page turners."
Crying out for interaction
Wang goes on, "Mobile devices cry out for interaction: dragging, tapping, moving and let's not forget shaking. Or how about augmented reality, which drops you into a space where you're looking for new images? With a new approach to design, all these become ways cartoonists can add to the reading experience of their online audience."
Using interactive comic books she herself designed, Wang tested various ways of grouping panels and of storytelling, and based on her results she conceived a number of ground rules for designing web comics. A good first step, she confirms. But any real contribution to the innovation of web comics requires more than this. "Not only a manual, but also a design tool. As well as being able to come up with and draw a good story, to make a web comic you also need to be able to program and find you way round the digital world."
As an assistant professor at the Department of Industrial Design and manager of the Digital Experience Lab - she has been working for some time now at Xi'an Jiaotong-Liverpool University in China - Wang hopes to start a collaboration with software developers. And thus to train more, and more varied, cartoonists as digital designers. "There can never be enough comics," says Wang. "We already have plenty of classic masculine comic heroes. But there is so much more to imagine, web comics are a fabulous way of communicating: girl comics, family comics, educational comics, real-life romance comics, animal comics…" - and we can further investigate interactive combinations of paper and web comics. If she pursues all this, she surely won't run out of material for her comic book evenings when she's an old lady, she decides with a laugh.
Xinwei Wang's reading tips