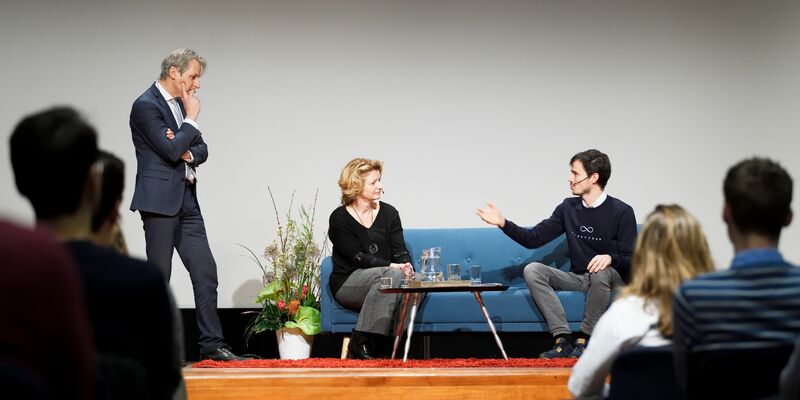 'This is the time to start your own company'
Old industry met with new industry this morning during the opening of the Career Events. Marjan van Loon, President-Director Shell Nederland and TU/e alumna, and Lex Hoefsloot, also an alumnus of TU/e and CEO of Lightyear, were asked about their careers and what motivates them. Would Lightyear want Shell to invest in the company? "We are fastidious when it comes to choosing investors," Hoefsloot said diplomatically. Van Loon in turn does not see a role for Shell in the production of solar cars.
Shell director Marjan van Loon (alumna Chemical Engineering) met Lex Hoefsloot for the first time this morning. Hoefsloot is a TU/e alumnus as well (Automotive Technology), and CEO of Lightyear, the company that recently started with the production of the electric solar car Lightyear One. Of course, Van Loon has heard of the company and she finds it a fascinating initiative. Especially since the company is based in Helmond, her place of birth. Shell also worked on the development and production of solar panels in the past, she says, "but during that period, around the early 2000s, there wasn't much interest in this technology, so Shell had to close the factory in 2002."
Climate goals
The audience, which took up only a quarter of the seats in the Blauwe Zaal, mainly wanted to know how Van Loon views her job ("you need to successfully combine your work with your social life and interests"), and in what way Shell helps to achieve the national and international climate goals. The president-director of Shell is very clear on that last issue: "The only way to achieve those goals is when all parties make their contribution, and when we use and combine every alternative. We need a patchwork of solutions, and Shell is actively involved in different areas. We look at how the process of energy transition develops globally. Our own recent calculations showed us that if we accelerate the process within Shell, it will lead to even better results."
Hoefsloot is asked what phase his company is in right now. "When you start to grow, you notice that the structure of your company starts to change as well, and that you no longer know everyone within the company. You also really need to think carefully about the investors you want to get involved with. Their views need to be compatible with those of your company, because in the end, the shareholders decide who gets a spot on the board of Lightyear."
He certainly encourages students who are thinking about starting their own company. "This is a good time to take such a risk," Hoefsloot says, "because technically schooled personnel are in great demand. If you fail by any chance, you could easily switch over to a large company."
You can still visit the Career Expo on Wednesday March 20th, between 10.00 to 16.00 in the Auditorium.