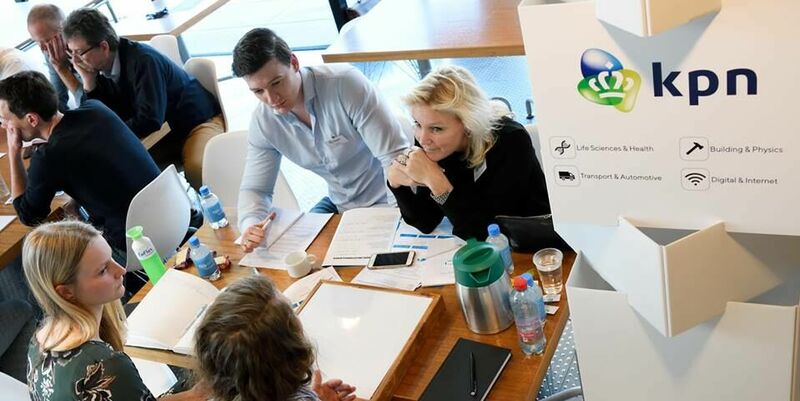 The University

,

Student

06/05/2019
This year, TU/e innovation Space will organize the fifth edition of the TU/e Contest, during which a total number of three hundred projects will be reduced to twenty finalists. The final step will be taken during next Wednesday's speed date sessions between participants and coaches.
Lino Thewissen, project manager at co-organizer Soapbox, describes the road to the final: "A total of over three hundred students created an account on our platform. This resulted in over one hundred projects that applied for the TU/e Contest 2019, seventy-four of which made it to the first round and had their profiles published on our website. Forty of these projects made it to the next round and are now preparing for the speed dates and training days in order to increase their chances of getting to the final."
Dutch 4TU Impact Challenge
The first TU/e Contest was held in Eindhoven in 2015. Students were invited, individually or in teams, to defend their innovative ideas or products in front of a jury of experts. In 2017, University of Twente organized a similar contest, also in collaboration with Soapbox, called the UT Entrepreneurial Challenge. Since this year, TU Delft and Wageningen University & Research organize a contest as well, known as TU Delft Ideation Contest and WUR Rethink Protein Challenge respectively.
The four technical universities of the 4TU federation decided to jointly organize a Dutch 4TU Impact Challenge during the coming years. Thewissen: "By doing so, 4TU wants to show the public the many great ideas that come out of the technical universities in the Netherlands, as well as the social relevance and impact of these ideas. Consultation with the Ministry of Economic Affairs led to the idea for a national edition, and even to the idea of sending the winners of the Dutch final to the Dubai World Expo 2020."
Focus issues
The final will take place in The Hague; the exact location and date have yet to be determined. With an eye towards the World Expo 2020, it was decided that the 4TU Dutch Impact Challenge will focus on the issues energy transition, the built environment, the food problem, and healthcare.
The Eindhoven final will take place on 6 June in the Blauwe Zaal of the Auditorium. There, the audience will find out who will be among the eventual prize winners; newcomers such as Rehab Buddy, Oopsie Heroes and Upprinting Food, or experienced contenders such as SOLID and team T.E.S.T.