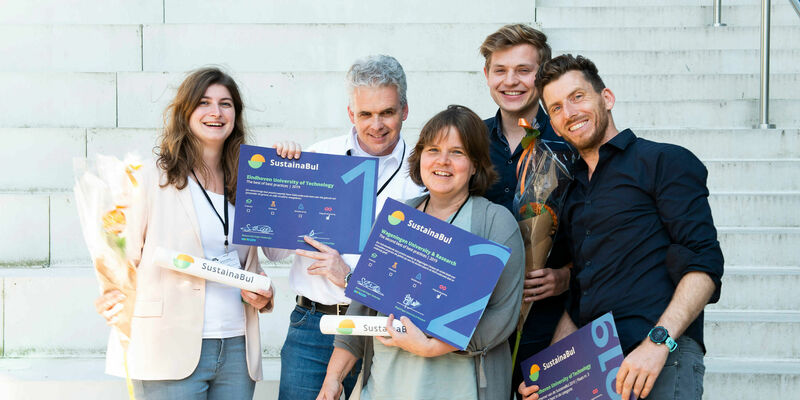 The University

27/05/2019
'TU/e is the best at putting sustainability into practice'
TU/e is the best at putting sustainability into practice and therefore retains its position at the top of the SustainaBul ranking. It does so despite the fact that it came third after Wageningen University and Van Hall Larenstein University of Applied Sciences, institutions that score slightly better at sustainability in Dutch higher education.
Student network for sustainability in higher education Studenten voor Morgen (Students for Tomorrow) awarded the prize for the seventh time last Friday. Ten universities and eight institutions of higher vocational education were ranked according to the following topics: education, research, business management and 'integral approach.' The institutions filled out a questionnaire, after which students assigned points based on the answers and the supporting documents.
Wageningen University & Research (WUR) scored the maximum number of points on the first two topics and finished in first place once again; last year, WUR came in second after winning gold five years in a row. Wageningen is closely followed by Van Hall Larenstein University of Applied Sciences, which came in third last year but now ranks second. TU/e takes bronze after scoring highest in the overall ranking of 2018.
Learning
Nevertheless, TU/e took home the SustainaBul 2019 last Friday afternoon. The reason is that the prize wasn't presented to the most sustainable institution in the ranking this year, but to the university or institution of higher vocational education with the 'best practice.' At the request of the institutions, there is more emphasis on sharing knowledge now. "They have a great deal of energy to learn from each other," says Shanice Campbell, board member of Students for Tomorrow. TU/e gained much praise for a research project (by team SOLID) on the use of iron powder as an alternative, circular fuel without CO2 emission.
Eighteen institutions participated in the SustainaBul ranking this year. That is more than last year, when nine universities and four institutions of higher vocational education filled out the questionnaire. "We cleaned up the questionnaire, and institutions can now simply copy last year's unaltered answers," Campbell explains.
Quality mark
Students for Tomorrow is also considering changing the ranking into a quality mark that will be awarded once every three years. "That gives institutions more time to become sustainable," Campbell says. The student network wants to continue assessing the best practices each year.