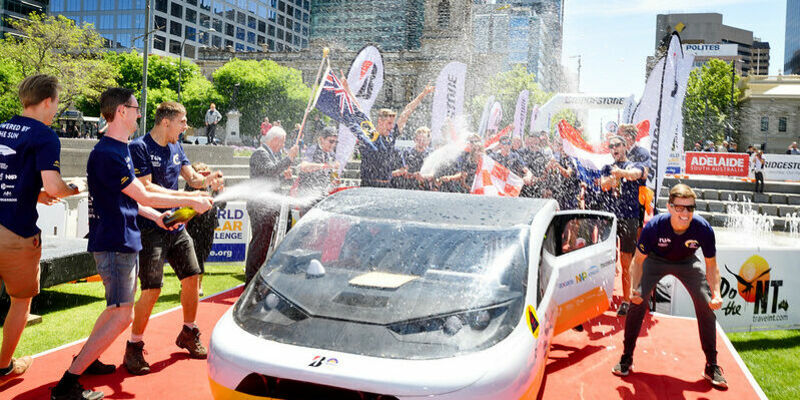 Solar Team heading for fourth world title
Solar car Stella Era has crossed the finish line of the World Solar Challenge in Adelaide with the highest efficiency score (111.7). The student team Solar Team Eindhoven is now well on its way to becoming world champion for the fourth time in the class for passenger cars (the Cruiser Class). The team has a substantive lead, but only on Sunday, after the jury's assessment of the practical applicability, we will know for sure whether it can take home the world title.
The car from Eindhoven is the only Dutch car in the 'Cruiser Class'. On the route of more than 3,000 kilometres from North to South Australia, strong winds proved to be the main challenge. As a result, Solar Team Eindhoven's four-seater car was at times unable to drive at full occupancy, making it vulnerable to competition from the two-seater cars. According to the rules of Cruiser Class, driving with more passengers gives extra points.
Contrary to previous editions, the teams were only allowed to charge their solar car twice on the road on a normal charging station, so that the longest stage on one battery charge was 1200 kilometres. Only two cars arrived at the checkpoint on time, including Stella Era, making sure they avoided the penalty time. The final efficiency score was determined by the number of passenger kilometres and the amount of energy consumed.
Extremely proud
Team manager Carijn Mulder is very proud of the team and the car. "Due to a lot of setbacks in the last few weeks we weren't sure whether we could finish the long stages at all. The team has been focused until the last moment and will also show what Stella Era has to offer on Saturday."
On Saturday the teams will be judged on the comfort and innovations of their solar car. "Stella Era was not only built for the World Solar Challenge, but mainly with the aim of developing a car that really gets the most out of the sun. We are confident that Stella Era, as a self-propelled charging station, will also get a good score here", says Carijn.

Solar Team Eindhoven, which has been in existence since 2012, has already led to a viable spin-off: the company Lightyear, which builds an electric car with integrated solar panels.
The winner will be announced on Sunday, during the award ceremony, which lasts from 11.00 am to 2.00 pm CET. So at 2.00 p.m at the latest we will know for sure whether Solar Team Eindhoven will be taking home the world title for the fourth time.
For images of the Stella Car and the finish of the World Solar Challenge in Adelaide check Flickr.