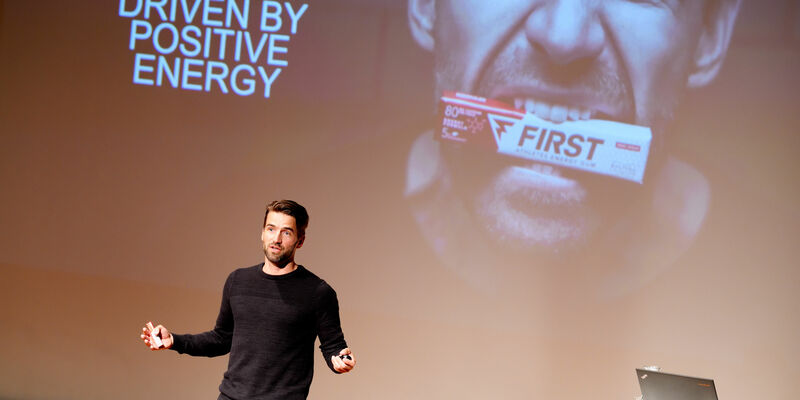 Olympic gold after "a journey full of fuck-ups"
To succeed you must first fail. And, above all, learn from the experience. Mark Tuitert won't be the first motivational speaker to give his audience this message, but this former skating champion is uniquely qualified to share these words of advice. By the time he scaled the Olympic heights in 2010 he had plumbed the depths on numerous occasions. He spoke about his journey to a packed Blauwe Zaal on Wednesday afternoon for Studium Generale.
"Have they been tough, these first weeks? I can see some tired faces," asked a lively Tuitert, kicking off his talk this afternoon. In fact he has a remedy to offer, but not until the end of his lecture.
First there's that journey to discuss. "A journey full of fuck-ups", is the former skater's vivid description. His Olympic gold medal for the 1500 meters in 2010 - invariably the first thing mentioned in his online bios and interviews - wasn't handed to him on a plate.
He paints a picture of how on that fateful day, Saturday February 20, 2010 he was seated in a van on his way to the stadium, his razor-sharp blades in his bag, the sun on his face, music in his ears. "Sometimes you have a shot at something just once in your life. At that moment everything has to come together, everything has to be right. I knew without a doubt: that time is today."
In his mind he watched his dream in its entirety play out as if it were a film. From how he had once started skating as a twelve-year-old boy from Holten, without any strikingly obvious talent if truth be told. "I wasn't exactly the next superstar in the making. Actually, I wanted to become an architect. Or a jet fighter pilot, that seemed cool".
Total dedication
But his sporting ambitions grew and with a small group of juniors he found himself at a training camp in Inzell, Germany. "I saw Rintje Ritsma, Falko Zandstra, Marianne Timmer, a couple of our greatest ever skaters. But nothing about what they were doing really grabbed me. Until I saw a big, muscular guy in a shiny red suit skating towards me, with huge great strokes from left to right. I saw the look in his eyes, a combination of total dedication, passion and focus. And I thought: that's what I want to do, I want to be like that, that's how I want to perform."
Six months later that muscular guy, the Norwegian Ådne Søndrål, won gold in the 1500 meters at the 1998 Olympic Games. The following year Tuitert became the World Allround Speed Skating champion in the juniors. "I realized that sometimes you can eventually do things that you had thought impossible."
He continued to grow, becoming a professional skater."In elite sport there is only winning and losing; there's nothing in between." Tuitert plays a audio clip. Less than a second and a half, a few indefinable beeps. A student in the front row knows what we are listening to. The former skater confirms it: "The first beep is me, when I crossed the finishing line and won gold in 2010. The last beep is the number eleven." Less than one-and-a-half seconds: the difference between the national anthem and a royal distinction, and walking out of the stadium without anyone wanting to ask you any questions. "Sorry. Loser."
Overtraining syndrome
But before he could become that first beep, he had to plumb the inevitable depths. Lucrative contracts with sponsors and big expectations weighed up sharply against a miserable situation at home, his parents going through divorce. "There were a lot of rows at home. I looked for control wherever I could: in my training. Blinkers on and get on with it." Only to end up on the couch for the whole of winter 2002: "Ill, overtraining syndrome, Pfeiffer's disease. My recipe for making headway proved the recipe for failure."
He started to read up on his sport, and then resumed training, now harder than ever. And, with his later coach Jac Orie, added smarter training to his regime. Measuring and monitoring everything, constantly, studying all the parameters. "At the age of twenty-three I became European champion, in a world record time (points total, ed.). I've come a long way, I thought, but I've made it. The newspapers were full of it: 'Now Tuitert is going to start winning everything.'"
But that's not what happened. "Within a month two Americans had broken my world record. Yet another lesson: you can't ever say 'I've made it.'" The competition was fiercer than ever. "I tried everything: working even harder, training even more smartly. But I still wasn't getting the results." In 2006 he was sitting in the stands of the Olympic stadium, a member of the audience watching the 1500 meters. "I was twenty-five, in the prime of my life - and I wasn't even taking part."
A realization struck him: "2010, Vancouver, that's going to be my last chance. We did everything to make it happen, all the parameters were good, all the data were good. But I wasn't going fast enough. This much I knew: I had to take a good look in the mirror, really see myself."
Getting all the jigsaw pieces in the right place proved no easy task, but a chat at the kitchen table with a friend brought new insight. The insight that he needed to seek contact with his father. He had wanted nothing more to do with him because of the divorce. Now five years had gone by. "I called both my parents and said, your divorce is not my thing, I'm waging my own battle: to become Olympic champion."
After all was said and done, both his parents were in the photograph taken at his wedding in 2009. "We had a fabulous day, everything came together. And that is the key: everything has to come together. It's not just about performances, about school, about dreams. It's also about relationships, about growing as a person. Don't put that to the back of your mind, deal with it."
He goes on to describe how he stood on the starting line on February 20th, 2010 in Canada. The signal to start, his first strokes, "bam, bam, all spot on". Tuitert plays a video: Vancouver. Short, quick shots, interlocking jigsaw pieces in combination with the exited voices of sport commentators. 'Is this the day Mark Tuitert has been waiting for his entire career?' And 'there are days when reality exceeds your dreams.' Gold.
In March 2014, after finishing in fifth place during that year's Olympic Games, Tuitert announced his retirement from professional skating. "I wanted to start studying again, needed to develop myself again. My resumé just said that I was good at skating rounds against the clock."
Energy gum
By now, Tuitert has his own company. "Sports and health are what I'm passionate about, I wanted to become an entrepreneur, manage my own time." He developed and sells energy gum, gum containing caffeine. "The healthy alternative to Red Bull and coffee." The Dutch national soccer team uses it, Tuitert says proudly, "but so do many students, to stay awake. And maybe not just during studying."
He gladly hands out sample packs today, with an url on the screen in the background that will get you a student's discount ("exclusively for you guys, don't tell anyone"). The students crowd together in front of the podium, Tuitert eventually comes up a few packs short. "Sharing is caring, people. Within five minutes, everyone here will be bouncing through the university."