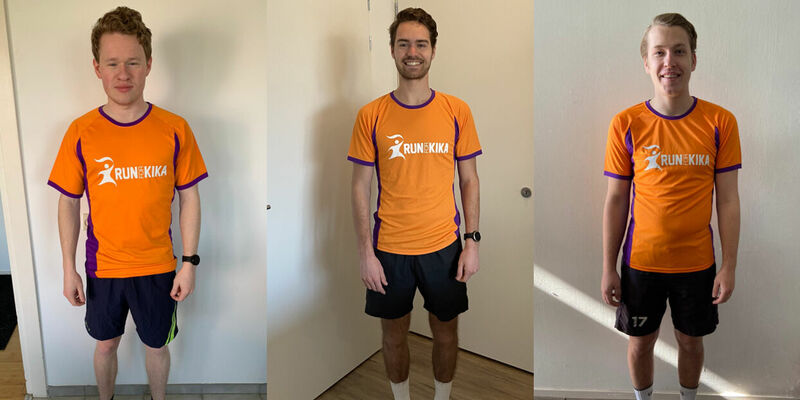 People

,

Student

07/04/2020
TU/e student holds pub quiz for KiKa
No less than ten thousand euros, that's how much TU/e Master's student Sten van Riet and two of his friends need to raise before they can enter the Berlin marathon for KiKa in late September. But how do you rake in so much money while maintaining a distance from your hopefully well-disposed fellow man in times of corona crisis? Their first online charity pub quiz, in any event, is planned for April the 14th.
Master's student of Industrial Engineering and Management Sciences Sten van Riet ran his first marathon in Eindhoven on October 13, 2019. Eleven days later, his close friend Geert van Loon, whom he had known since elementary school, died of leukemia. Initially, Geert was diagnosed with 'chronic leukemia' seven months earlier – but it soon became clear that he was suffering from the acute, aggressive variant.
Sten looks back on a difficult period. After high school, Geert and he went their separate ways to pursue their academic studies; one went to Eindhoven, the other to Nijmegen. "But we always maintained close contact." Geert went back to live with his parents during the last six weeks of his life, "I went there every day and we tried to make the best it." His friend, incidentally, wasn't the first seriously ill person close to him; Sten's mother also had cancer a few years ago.
Since the Master's student has seen the sometimes devastating effects of cancer up close, he is committed to help fight the disease. He had never run a marathon before until last year, but his excellent basic condition and six weeks of preparations made it possible for him to appear at the starting line in Eindhoven on October 13 – together with his friend Bart, Geert's brother. "Geert had undergone heavy chemotherapy, so at least we should be able to run a marathon, we thought." When they crossed the finish line, they had had raised 5.400 euros for the Dutch Cancer Society.
Geert was there that day in Eindhoven, "looking back, it was one of the last days he felt reasonably well, considering the circumstances. His girlfriend drove him to several places along the route, and there were many family members there. Actually, it was mostly a really nice day."
Geert's birthday
The next marathon, for KiKa (Children Cancer-free Foundation) in Berlin, is planned for next fall. On 27 September, to be exact, which also happens to be Geert's birthday, coincidentally. Sten and Bart will run the marathon with a third friend, Xander, this time.
This Run for KiKa marathon isn't just a new sportive challenge, but a financial one as well. Each participant needs to raise 3.500 euros in advance in order to take part; a figure that has to be raised in stages during the run up. In other words: 10.500 euros for the three of them. They had a few ideas already, such as a self-prepared dinner for charity: "But the whole corona business made things a bit more complicated."
That is why the three of them are now mostly exploring the online possibilities. First event on the program: the Pub quiz for KiKa, on Tuesday evening, April 14, 'a ray of light in these dark times.' They are still thinking hard about what the evening will actually look like and its practical implementation, but people can already register (together with a quiz mate) via the KiKa page of 'Team Geert.' Participants will receive an email on the actual day with login details for the quiz (which, incidentally, will be held in Dutch).
Whether they will succeed in bringing in the required ten thousand euros? Sten laughs: "At least the other two are very confident. If we can hold a pub quiz three weeks in a row, for example, we'll start to bring in serious money." An hour of entertainment for 7.50 euros per person, "otherwise people will go to a terrace and spend twenty euros per hour." Incidentally, people are welcome to donate more.