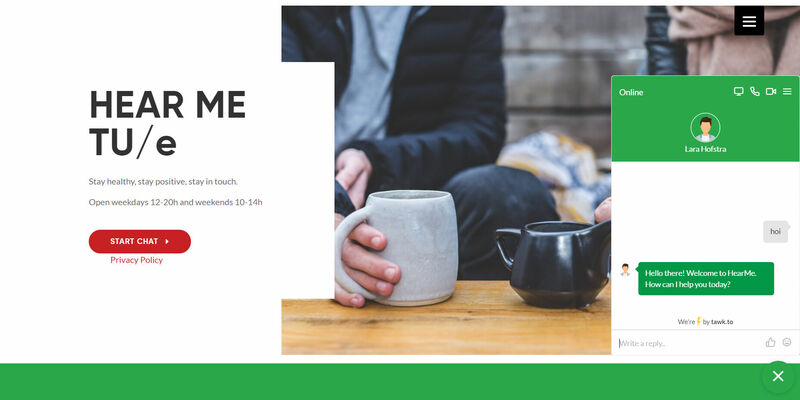 Corona

,

People

15/04/2020
Hear Me is live
At noon, the first chatters and (video) callers can profit from the initiative of Lara Hofstra and Henk Vervoort. The anonymous line where volunteers are ready to listen to TU/e employees and students has been created because of corona. "People are indoors a lot now and miss contact and the opportunity to vent. Hear Me fulfills that need," says initiator Lara Hofstra, internationalization coordinator at the Student Sports Centre.
On hearme.tue.nl you can chat or (video) call a volunteer every day. Both chatting and (video) calling are free and available in Dutch and English. "All volunteers speak English really well and more than half of them also speak Dutch," Hofstra says. Students and employees can make unlimited use of the initiative. "We deliberately do not want to limit this; people may call when they need it. And we emphasize that 'need' can have many faces. The initiative is not just for people who feel really down. You may just have had a bad day and want to hear an uplifting story from someone else. Or just want to chat lightly about what to do with your spare time on the weekend. Anyone can call us," Hofstra says.
You always choose the chat option first, even if you want to call or video call. From the chat, the option to make a (video) call becomes available. Calls last up to 25 minutes at a time. For now, the opening hours are from 12:00 to 20:00 on weekdays and from 10:00 to 14:00 on weekends. "If we notice that people need us at different times, we will try to accomodate that. But time will tell," Hofstra says. In the set up of Hear Me Hofstra gets help from Henk Vervoort, third year student of Applied Psychology. "I find it interesting to find new techniques that I can use to help people. This is a good example. We use online trends for this initiative and it also meets a current need, which gives a pleasant feeling," Vervoort says.
Completely anonymous
The line is completely anonymous, unless if you opt for video calling of course. "When you call us or approach us for a chat, we see a code, not a name. Your data and chat or (video) call are not stored or used for reference by the TU/e," Hofstra emphasizes.
It is also important to know that you chat or call with a volunteer: they are not trained psychologists or professionals, but students and employees with an affinity with listening, from among others, TU/e, Fontys and TINT. They are supervised by TINT's life coaches and clear guidelines have been drawn up by Vervoort so there is a uniform way of working. For example, if the conversations go beyond providing a listening ear, such as speaking to those with depression or even suicidal thoughts, the volunteers have to immediately stop the conversation and refer the person to the GP or 113 (suicide prevention line, ed.).
Even after corona
Hofstra: "I want to achieve that if people just need to speak with someone, they can. The threshold is very low here. And we don't mind when people call more often. That's no problem; we have enough volunteers (already fifty!) to get to know, and there will be more soon. We also plan to create a group for people who are alone and would like to have regular contact with others, for example to chat online. We then connect those people if they like us to. The initiative will be evaluated in five months. If it turns out to be a success I would like to continue it, even when the corona time is over. It is a good initiative to improve the well-being of students and staff here." Finally, she also has a message for the TU/e community: "Look around you and check who could do with a regular call or email. You can really help someone with something that small."
Do you have suicidal thoughts? Or are you worried about someone else? Then call 0900-0113 directly or chat via www.113.nl. Anonymous, free and 24/7.