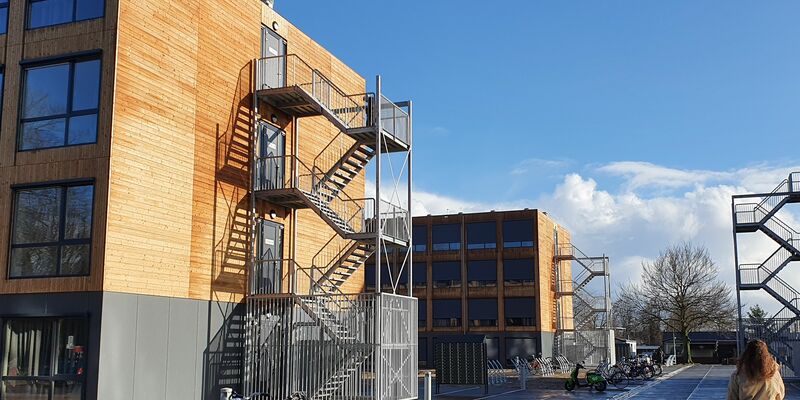 Berenkuil residents miss furnished social space
Next to the Berenkuil, close to the TU/e campus, three hundred studios have gone up in no time at all, providing homes for two hundred international TU/e students and a hundred international Fontys students. The four buildings have been occupied for the past few months, but still look a little out of place. The greenery hasn't yet grown and the outdoor furniture is on order. What is it like inside?
Sunshine is flooding into the common room in Building 4. The room measures twenty by four meters and save for two red couches is entirely empty. Seated on one couch is Sjoerd Hutter, one of the two student managers appointed by Vestide. They receive a volunteer's fee to be the eyes and ears of the room rental agency. Sjoerd's colleague is Fontys student Mark Wolvers. Sjoerd is doing a pre-master's in Sustainable Energy Technology at TU/e.
The main job of the student managers is to be the first line of contact for the residents on Lombokpad. They must also set up activities that will help create a community and which, hopefully, will prevent any students becoming lonely. "To do this we need a furnished social space," says Sjoerd.
He's been less busy so far than he had imagined he would be. There are only a few complaints and questions on the Facebook page set up for this purpose. "The rooms are nice and well insulated. Noise has been a problem just once. We have had a few questions about the use of public transport and the induction hob." In the fortnightly meeting with Vestide Sjoerd reported that the laundry room should be cleaned better, and now it is.
Not ready
"The common room, as you can see, is not yet furnished. Ideas have been suggested on two occasions. Someone asked whether we could have places to study, and a chill area with a TV and couches was requested. Someone else hoped we'd get some cooking facilities so that a bunch of people can cook at the same time. In the studio you have two rings and there's not enough space for four people to eat together."
Now the furnishing ball is in Vestide's court. Sjoerd feels things are taking a long time. "It's no harder than making a trip to IKEA, so to speak." Sjoerd can say that two baskets and two soccer goals will be installed on the sportsfield, but can't say when. Hopefully, the planting will be done in the spring.
A spokesperson for Vestide says that the soccer goals and baskets have been ordered, but that the delivery time is long, unfortunately. "As far as the communal area is concerned, we're drawing up a floor plan with a student and the students who serve as first points of contact. We're also investigating whether there are any other requirements we need to meet," she says.
Trailer park
Despite the lack of furniture, the common room was used last Saturday. "The municipal council organized for us to have lunch with our neighbors living in the trailer park. They brought goulash soup and wraps with them, Vestide had standup tables and sandwiches. It was an opportunity for two closed communities to get to know each other", says Sjoerd. "Now I know names, faces and the jobs of some of the women who live in the trailer park who came along. I'd say the lunch was a success, perhaps we'll have a barbecue some day."