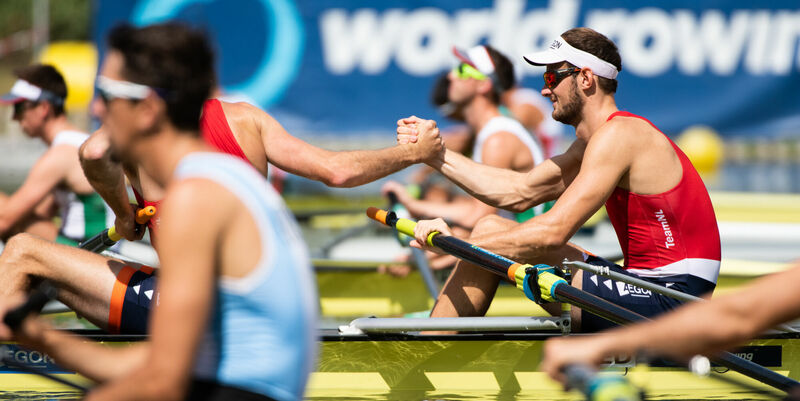 Sports

,

People

,

Student

23/01/2020
TU/e student rows from dream to Olympic goal
They are already in possession of the international qualifying ticket of the IOC; now they need to convince the NOC*NSF - which is much stricter by tradition - that the coxless four is ready for Tokyo. Mechanical Engineering student and top rower Sander de Graaf managed to secure a seat in this crew last week and will likely become the eighth rower from Thêta to appear on the Olympic stage.
De Graaf didn't exactly have Olympic ambitions when he signed up for membership of Thêta as a first-year student back in 2013. "I thought: I'll just give it a try," he reminisces over the phone from Portugal, where he is currently at a two-week training camp with the twenty-men Dutch rowing squad.
However, 'giving it a try' soon turned into competitive rowing. "I quickly realized: there might be more to this." At first, he hadn't taken them very seriously, those motivational words from older Thêta members who always tell (potential) new members during the Intro that they just might compete at the highest international level one day. "At that moment, it sounds a bit ridiculous."
De Graaf proved himself wrong: within a few years after his first strokes on the water he made it to the highest level of Dutch rowing, and in 2017 he made his debut at the Under 23 World Rowing Championships, where he finished in seventh place. Not an exceptional accomplishment, he says, "but it did make me realize: now is the time to try and really forge ahead." Not that the Dutch rowing federation immediately turned up on his doorstep ready to draft the young rower from Brabant: "It's more of an organic process. You really need to make it known yourself that you want to compete."
A-class athlete
In 2018, he got into the double scull with Vincent Klaassens, a student from Delft, "and together, we went to the federation." The duo competed at the Dutch Championships, the World Cup, the European Championships and the World Championships, "that's what really got the ball rolling internationally."
Thanks to his status as an A class athlete, for which he qualified last year, and the additional financial compensation, De Graaf can now focus completely on rowing and on the federation's schedule. He says he trains an 'effective' twenty hours a week on average, "but all in all, I think it occupies me somewhere between thirty and forty hours a week."
Read on below the picture.
The main thing he hopes to achieve from that time investment in the short term: to compete in the world cups this spring and prove that the team has enough protentional to become a finalist, and to convince the NOC*NSF that they are eligible for a qualifying ticket for Tokyo. "But we basically believe that we will meet those requirements effortlessly." He has already cleared his schedule for July and August, just to be sure, he says laughing. "Bizarre, when you think about it: the Olympic Games are a concrete goal now, instead of some sort of dream. That's really quite cool."
Incidentally, 24-year-old De Graaf is realistic about his chances on the Olympic stage. "You never know how things will work out, of course, but in principle, we are the lowest ranked boat of the team. The chance that we will actually be able to compete for a gold medal is slim. We have a great group of guys, with several young rowers. In rowing, it's usually the guys in their thirties who really compete for the top prizes."
To use a motto that Johan Cruijff could have come up with: "You really need to be able to successfully move into the same direction together." And that's actually not as simple as it sounds. "I'm quite strong physically, above the average of the men's team. That means you're not always the easiest person to row with. A lot of physical power in the right direction is very nice, but it's an additional weight you need to carry when things go wrong. There certainly is still much to be gained in that area for us as a team, with targeted training."
Graduating
His focus on sports leaves little room for his academic ambitions. De Graaf, who lives in Amsterdam, sees his peers in Eindhoven graduate one after the other. But even though his Master's has slowed down almost to a standstill, he is most keen to finish it. "There are examples of people who never finish their studies because they have been away for too long, therefore it's important to me that I remain involved with my studies to some extent."
He continues: "I want to pass at least one course this year, then I can graduate. But it's difficult. To begin with, all of the upcoming exam periods take place just when we're away on training camp." He might even take a six-month break from rowing after this year and leave the rowing federation, De Graaf contemplates out loud. "But I haven't quite decided yet."
Top athlete or not, he still feels closely connected to his former club Thêta. "I still visit the association now and then and my girlfriend is on the board, so I hear a great deal about it anyway." He occasionally talks to fellow Thêta member and TU/e student Lisa Scheenaard - who already claimed her ticket for Tokyo during the World Championships in Austria last summer, after she went to Rio as a reserve - in Amsterdam. "I had just started at Thêta when she was already about to start rowing for the federation, but I clearly feel that connection of 'coming from the same place.' It's also really cool that after sixteen years, suddenly two rowers from Thêta will probably go to the Olympics."