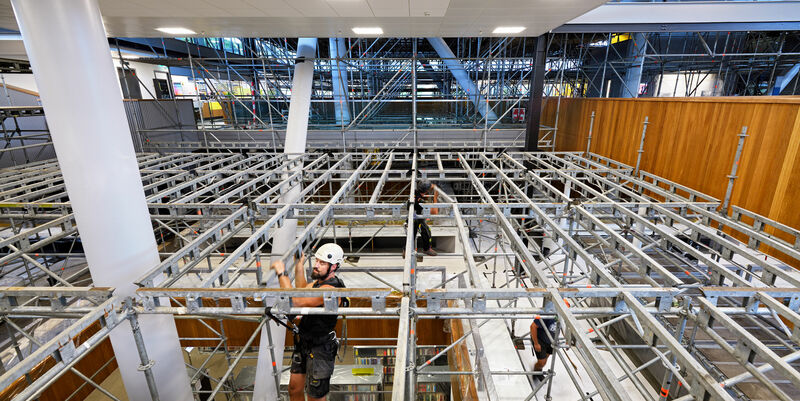 Scaffolding in MetaForum for replacement of lamps
Scaffolds have been erected at several floors in MetaForum this week so that the ceilings there can be reached. This is necessary in order to replace faulty LED lights in the library and the building's low-rise areas. The fire alarm system will be replaced as well and will now be placed in areas that are easier to reach.
Anyone entering MetaForum this week will run into quite a spectacle. Scaffolds are being erected all throughout the large, open space. Major replacement maintenance of the lighting system will commence next week. The scaffolds are necessary so that maintenance engineers can reach the ceilings. Work on the building will however include more than just repair of faulty LED lights; parts of the fire alarm system will be replaced as well, after which they will be relocated to places where they are easier to reach.
Maintenance contract
MetaForum, designed by TU/e alumnus Joost Ector, was taken into use eight years ago. In retrospect, more thought could have been put into the placement of the lighting system during the design phase, says Ronald van Nattem of Real Estate. Van Nattem: "It turned out we couldn't reach it, which means that faulty lamps couldn't be replaced. We do have a maintenance contract with the lights supplier, but he rightly pointed out that he hadn't taken into account the fact that he would have to place scaffolds every time he needed to replace lamps. Setting up a major scaffolding construction like this one is a costly operation you prefer not to have to do." It is expected that after completion of all maintenance activities, the lights won't have to be replaced again until 2030. "That's what we hope," Van Nattem says matter-of-factly.
Fire alarm system
This maintenance operation also includes the replacement of parts of the fire alarm system to areas where they are far better accessible, making it easier to check and repair them in the future. Van Nattem: "The inspection requires us to check these systems on a regular basis, that was difficult to do in the current situation. The fire alarm system, incidentally, always functioned properly."
The cleaners of Asito can use the opportunity to clean areas they couldn't reach these past few years during their regular cleaning activities. Maintenance activities will last until mid-August and the scaffolds will then be dismantled in two weeks' time.
Regular activities of services in MetaForum, which still take place now despite the corona measures, can continue to take place during maintenance. The building will be delivered in a clean state on Monday 31 August, after which the library will be fully accessible again.