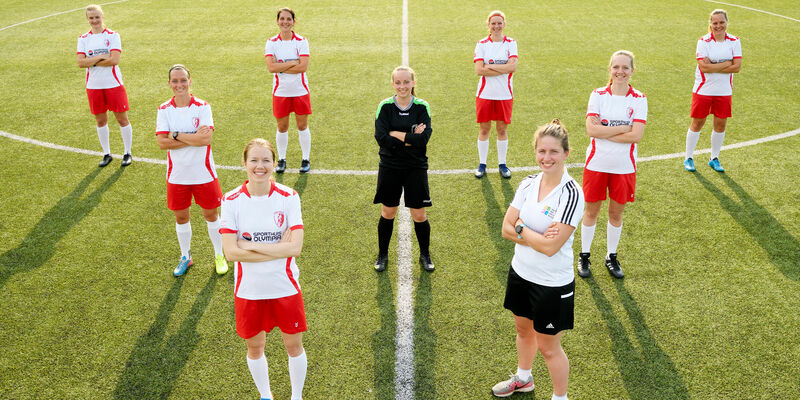 Sports

,

Student

29/06/2020
New challenge for Totelos Ladies 1 in the premier league
The Ladies 1 team of Totelos will compete in the premier league for the first time ever after the summer. This highest division had been beckoning for quite a while already, since more and more teams were unable to put up a serious fight against the women's indoor soccer team from Eindhoven these last few years.
Melissa Grunewald has been active as head coach of the four women's teams of Totelos, where she used to be a player herself in previous years, for one season now. Moving from a position in the midst of a group of sportive friends to a coaching role "felt rather strange at first, but it worked out just fine in the end." Thanks to the support of her predecessor Raymond Starke, who is always there for her to fall back on, Grunewald says, and who helped her "create my own vision" when she first started.
The most important message she wishes to convey as coach: "That it's a team effort." She too of course had the possibility of a promotion to the premier league on her mind when she started, "the team had felt that ambition for some time already. We won a few consecutive championships as well as the league cup, we were determined to at least maintain that level." Bente Derks, graduate student within the Master's program Data Science & Entrepreneurship and a Totelos forward player for over five years, adds: "We simply didn't meet with that much resistance in the first division. There comes a time when you want a bit more of a challenge."
Corona crisis
Ladies 1 seemed set to win yet another league title this season without much resistance when the corona crisis put a halt to the indoor soccer competition. This also thwarted the usual promotion and relegation system of the KNVB's competition model. But seeing that the title was once again within grasp, and taking into account the results in previous years as well as the oft-expressed growth ambitions, the team from Eindhoven secured a place in the premier league.
Read on below the photo.
And this means that Ladies 1 won't be playing predominantly in its own region on Monday evenings any longer, at no more than a thirty-minute drive from Eindhoven, but on Friday evenings throughout the country. "It will certainly take us more time next season," Grunewald says. To which she subtly adds: "I don't think that going out on Thursday nights when you have to play a game on Friday will be a smart thing to do in the future."
Grunewald expects that Ladies 1 will do just fine as a "mid-table team" in the premier league, in which a total of twelve teams compete. Totelos played against some of these teams before in the first division or the league cup. "We had a real tough time against certain teams, whereas we beat other teams by a wide margin." But a challenge certainly awaits them, the coach says, which just might be the reason why the team can't wait to compete in the top league. "We're an excellent team and we want to get even better." Derks: "This will be a very cool experience - but it won't be easy."
Shoulder charge
One very concrete challenge the team will be faced with, is the much more physical contact in the premier league, where players - unlike in the first division - are allowed to shoulder charge one another, for example. "We're not used to that, in fact, we play rather 'nice.' We can certainly make some progress in that regard." But then again, Grunewald says: "Having fun will still be the most important thing." And fun, combined with a healthy dose of fanaticism, will get Totelos (one of the few student teams in the premier league) very far, she expects.
Read on below the photo.
Player Derks (who's not only active at Totelos but at field soccer association Pusphaira as well) doesn't rule out the possibility that student clubs tend to be looked at somewhat differently. "I think they have a certain first impression of us. We had to play against premier league teams a few times for the league cup competition in recent years. These clubs come dressed in professional training gear with appropriate sports bags to the Student Sports Center and expect a walk over. But we put up quite a fight sometimes."
Willpower
If only on the basis of willpower and team spirit, which Grunewald says are the main strengths of Ladies 1. "When things don't go as expected, the team still works hard and won't give up." Derks: "We help each other get through it. When someone makes a mistake on the pitch, three other players will immediately jump in to rescue the situation for you. We're a well attuned team."