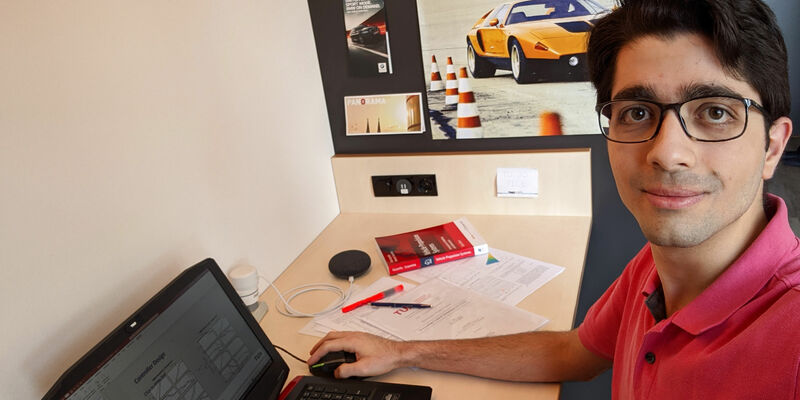 Corona

,

People

,

Student

26/03/2020
Vehzan defends his master's thesis online
We have probably all worked from home once at some point, voluntarily or out of necessity. But how do you divide your day and sort your work or study load now that we collectively depend on our home for a longer period of time? How do you stay focused, how do you keep your team together, what are the tips, tricks and pitfalls? Cursor calls a 'fellow sufferer' every day. Today: Vehzan Rustomji, who will defend his master's thesis online this Thursday afternoon.
'Yes', Rustomji admits, the master's student of Automotive Technology had imagined his defense a bit differently. He would have loved to have some friends and fellow students around him - for the moral support "and I was just really looking forward to telling people about my work."
But above all, he says, he wants to close the book after a long and difficult graduation process. An alternative graduation in a stripped-down online form, via Skype with three professors, will do. Rustomji expects to spend 25 to 30 minutes on his graduation talk, while sharing his presentation slides on the screen. Then it will be question time for his academic audience, followed by their deliberation and their judgement.
The master student does not seem extra (but also not any less) nervous for his online defense: "I especially hope that everything will go well technically, and that the professors can see and follow everything well. A minor disadvantage might be that you can't make a quick sketch to support your explanation."
Thank god
The master student has been working from home - his room in the Luna campus building - for more than two weeks. 'Thank god' was his first thought, he said, when the urgent work-from-home request came from the university. "I had just finished my graduation thesis and just had a meeting with my supervisor. Everything was approved, I just had to dot the i's and prepare my presentation. That was all fine to work on from home."
Read on below the photo.
Not that he really likes working from home per se: "I am really a lot less productive at home. Things that you normally do in half a day will quickly spread over two days." Even before the corona outbreak occurred, the master student says he rarely worked from home. "I'd rather go to the library, even if I have to do something by myself. My home I mainly associate with fun and relaxation, so as soon as I get there my head is also in that mode."
Fortunately, the hard work for his master's degree is now almost over. Most of his friends are also graduating, or just started looking for a job with their degree still fresh. Although the latter is not easy now, in times of corona. Interviews are mostly being postponed and vacancies are being withdrawn again, he notices. "Nobody knows how long this will last and companies are also waiting."
Air and glee
Not that there is a cloud of intense sadness over his group of friends, he hastens to say. "Most of us are still positive and cheerful. For now, that is. Because we have only just arrived in this situation." What helps, according to the student, is the incessant flow of funny memes and videos, which provide some air and glee. The beautiful weather is also nice; if it were cloudy and dark now, all this would have been a bit heavier."
For Rustomji, his social life currently mainly consists of joint online games (such as Modern Warfare and Psych), and some chatting in between. "In my surroundings, everyone neatly keeps the adviced distance. Here in and around Luna it feels like it's weekend every day, it is very quiet."
Read on below the photo.
India in lockdown
Actually, after graduation, he was supposed to go to his family in India for two weeks (Rustomji was born in New Delhi, but went to school in Mumbai), whom he hasn't seen for over a year and a half. But he already postponed that trip a few weeks ago, as a precaution. In any case, India has been in a complete lockdown for three days now (lasting at least three weeks) and in principle no one is allowed in or out of the country.
This is a good thing, the master student thinks. He also explicitly told his parents to take proactive measures. "They are a bit older and therefore more vulnerable. I had already urged them not to travel by public transport, for example, and asked my father if he could work from home. But especially now that there is a complete lockdown, I am less worried about them."
Conversely, his mother is especially concerned about him, Rustomji knows. "My father has a little more confidence, both in my choices and in Dutch healthcare. But I do understand that as parents they would prefer to have me with them in India under such circumstances."
For the time being, however, he wants to stay in the Netherlands and start working here after graduation. There was already an offer from DAF Trucks, "but I don't know if they will hire me now that production has stopped. I have to go after that." In the meantime, he mainly hopes for some time for himself, for some reading and other activities that we lack time for in the hectic everyday life. And he hopes to get a bit of structure in his days, "because that is a struggle now."