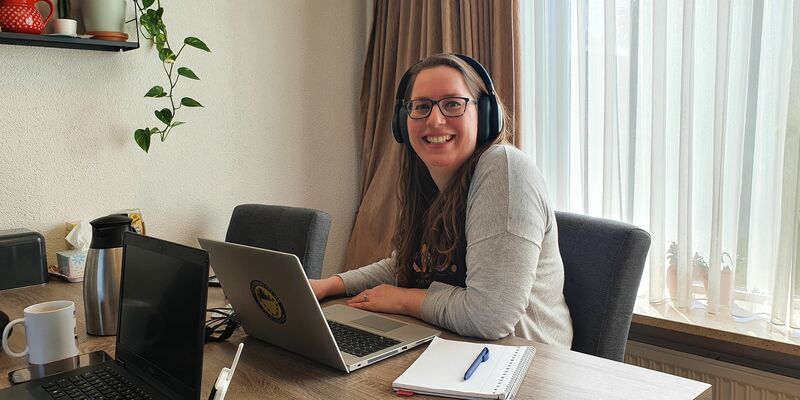 Corona

,

People

24/03/2020
"Skyping with students when the baby sleeps"
We have probably all worked from home once at some point, voluntarily or out of necessity. But how do you divide your day and sort your work or study load now that we collectively depend on our home for a longer period of time? How do you stay focused, how do you keep your team together, what are the tips, tricks and pitfalls? Cursor calls a 'fellow sufferer' every day. Today: study advisor Lonneke Boons.
Alrighty, a quick phone call with Cursor in the midst of other work, will just fit. Because if she even has time to skype - 'read: when the baby sleeps' - then that time is devoted to skyping with students.
This week she will turn one, the daughter of study advisor Lonneke Boons. The life of a working mother already is a case of juggling, the TU/e employee says - but the recent measures in the context of the corona virus certainly do not make that daily juggle boring. Fortunately, Boons says she has 'the best partner' around, as well as a mother-in-law nearby who she can turn to for help.
And then there are things like as managing expectations and speaking up. "To my supervisor, to colleagues, to students. I just can't be available twenty-four hours a day. Fortunately, we have very nice students who understand that very well."
Source of information
Boons works as a study advisor for the department of Mechanical Engineering for three days a week, making her a source of information for students with a wide range of questions and issues. "In my agenda I always have fixed times for consultation; students can schedule an appointment with me in advance online. In addition, you have students who come in the meantime asking questions, questions coming in by email, and I have consultations with examination boards, colleagues or with all study advisors from other departments."
All this now has to be done remotely, online. "My appointments with students become video calls or telephone calls. Beforehand I clearly state: make sure you are in a quiet place and your phone is charged. If an appointment is not urgent, we try to reschedule it."
Continuing to communicate is key according to Boons. Just like setting priorities and suspending some tasks for a while, in consultation with her colleagues and manager. But perhaps most important, according to Boons: "Keep taking care of yourself. Take breaks on time, drink enough and don't try to be available twenty-four hours a day."
She usually manages this quite well, by the way: "I find myself and my health most important. I don't want to peak now and later suffer a collapse. What also helps me when I work from home is to get up at the time I usually do time, have breakfast and shower on time. Of course it is very comfy to sit behind your laptop in your sweatpants, and everyone should decide that for themselves. But I am a lot more productive and efficient if I stick to my regular routine."
And if she happens to unexpectedly forget the latter herself, then her baby daughter is there to remind her of the much needed 'peace, cleanliness and regularity'. She laughs: "She really shows when she is hungry or tired. But I also want to be there for my students. So I regularly try to answer my emails and their questions." And yes, under the current circumstances those 'set times' are sometimes in the evenings or during the weekend, "but that is easy to manage."
Students simply face many questions at the moment, the study advisor notes. "There is a lot of uncertainty. How can I take online classes, conduct practicals, take exams? What about deadlines, graduation, exchanges? These are all justified questions, but at the moment we do not yet have the answer to everything."
Does she feel she can reassure students in the current circumstances of uncertainty? "I hope so. But I don't see them in person now, I don't see the non-verbal communication. But I am committed to allay their concerns remotely."