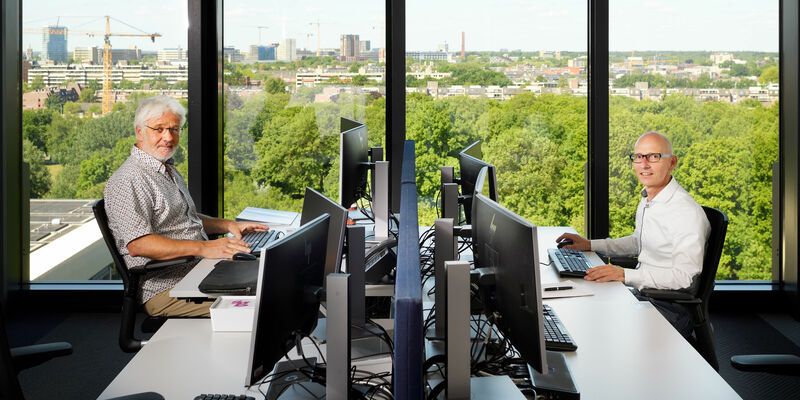 Corona

,

People

25/05/2020
"That one day at TU/e feels like a school trip"
Working from home during the corona crisis is slowly becoming our 'new normal'. We learn to deal with the changed framework and our pitfalls in this situation, find our way in being at home and miss the campus and each other in the meantime like never before. Cursor frequently calls a fellow remote worker to find out what's up. Today: Ad van Rooij and Thijs Mooren of Real Estate Management, one of the regular duos that work on campus every Thursday.
Working remotely is far from ideal as far as Ad van Rooij is concerned. The property manager and contract director for Management and Maintenance at Real Estate Management is a social animal who enjoys the company of other people. But by now he has worked out a way to deal with working from home. And he gets to work on campus every Thursday with his 'duo partner' Thijs Mooren, account manager at Management and Maintenance.
Real Estate Management sends a regular duo of Management and Maintenance to campus every work day in this period, to deal with calamities and to act as a point of contact for the many external parties that work there. Thijs and Ad are Thursday's regular duo. They have been colleagues for years and know each other very well. This is illustrated by the quips and jokes they make during the interview via Skype, and by the fact that they complement each other when necessary. "I'm inclined to behave a bit licentiously and he corrects me now and then," Ad jokes.
Busy days
Work at Management and Maintenance is never finished. In fact: there's more to do than ever before now that campus is practically deserted. Because the truism that to every disadvantage there is a corresponding advantage applies here as well. "We try to undertake as much of the replacement maintenance as possible that would normally cause an inconvenience to the users," Ad says. "And the contractors have no choice but to continue with their work, because you can't stop carrying out maintenance."
Checking the drinking and process water for legionella is currently a standard procedure. "We need to ensure that all installations remain safe, which is why we flush out the pipes more regularly. And when some of the labs reopened in early May, it was our job to make sure that is was safe to use the showers there," Ad says.
"Our suppliers and partners simply continue with their work. That means there's a lot of contact via mail and many meetings," Thijs adds. During work meetings Ad and Thijs consult with prime contractor Heijmans and discuss the goings-on on campus and all the things that need to be done. "We carried out maintenance on the Green Strip and the barriers, which is more difficult when everyone is on campus."
Events
In addition to his work for Management and Maintenance, Thijs is also in charge of the process associated with events on campus. Normally, these are the busiest days of the year, but that work has come to a complete standstill now that all events have been cancelled until September.
At home, the very busy days alternate with quieter days. Thijs: "I have fewer meetings when I'm at home. I spend a lot of time in meetings when I'm on campus on Thursdays, mostly with external parties that work here." Ad immediately joins in with a joke: "I look forward to working together but I hardly get to see him, he goes from one meeting to the next."
In the end, a 'live' meeting works better for Thijs, even though meetings via Skype or Team are conducted in a more business-like manner and get to the heart of the matter more quickly. "I miss the interaction you have during a live meeting, the body language you can interpret in a live setting. You really need to concentrate on the image of the person on the screen in front of you to take in everything."
School trip
They spend their Thursdays, together with a colleague of the front office, on the tenth floor of Atlas, a totally abandoned ghost building in these times. Across from one another, separated by two display screens and a partition. They feel privileged that they are allowed to go to campus once a week, and they realize that this isn't common practice. "Going to TU/e to work feels like going on a school trip. Leaving the house for a day, getting in your car to go and work somewhere else gives you some freedom."
The Thursdays on campus are a treat to a social animal like Ad in particular. He starts his days working from home at 6:15 a.m. seated at the kitchen table behind his laptop. During lunch breaks he tries to find some time to take his dogs out for a walk, and he tries to finish his day around 16:00 hrs., unless his work keeps him occupied until late at night. Apart from his regular work, he's also on the 'corona team' in charge of marking the walking routes on campus.
Future
If the crisis has taught us one thing, it's that working from home actually works well. "When everything reopens and we are allowed to have physical contact with one another once again, people will work from home more. Policy here was that you were allowed to work from home for a maximum of four hours a week. I think we will have more freedom when it comes to this in the future," Ad expects. Thijs agrees: "We will see a hybrid form of working from home and working on campus."
But for now, working on campus still applies exclusively to them. A weekly school trip to Atlas.