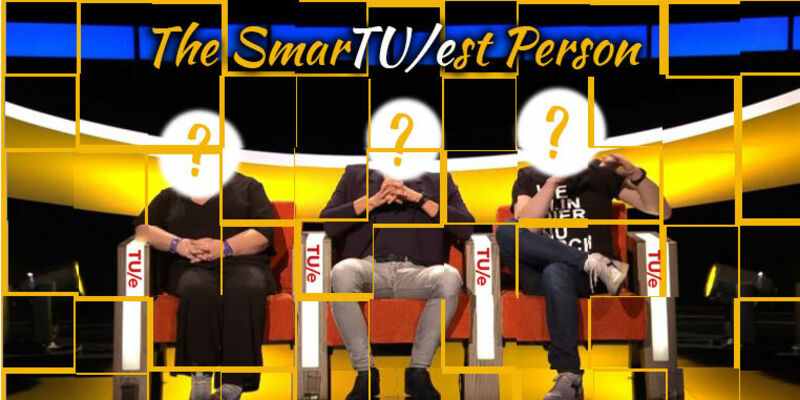 Are you the smartest person at TU/e?
Exams are an opportunity to show how much you know about the courses you take, but perhaps you know a great deal more. That general knowledge can come in handy in the search for the SmarTU/est person. Study association CHEOPS celebrates its seventh lustrum, in collaboration with Studium Generale, with an online quiz modeled after tv gameshow De Slimste Mens.
On Monday 9 November, CHEOPS will start its search for the smartest person at TU/e. Participants can fill in an online quiz on Monday, Tuesday or Wednesday during the next five weeks. The three students with the highest scores get to participate in the finals, which will be live streamed from the Blauwe Zaal. TU/e staff members are welcome to take part online as well of course, but they don't get to compete for a place in the finals.
Built Environment students and CHEOPS board members Romy Groen and Tom Bormans came up with the quiz because they wanted to celebrate their association's anniversary with a corona-safe event for the entire TU/e community. Groen says she's been watching De Slimste Mens for many years, "especially when I still lived with my parents," and she's very excited about making a TU/e version.
"You don't need to worry about difficult calculus questions," Groen says, "it's mostly about general knowledge, especially during the preliminary rounds. We're not going to ask questions about Newton's laws, or molecular structure recognition. Just questions all students would know the answer to." There are three categories: short, open questions, a puzzle with a raster containing twelve descriptions, and ten pictures about a certain topic.
More than one hundred questions
The finals in the Auditorium on 14 December will have a TU/e flavor. "You can expect something like a photo of the opening of the 'Technische Hogeschool' (higher school of technology), as the university was called at the time, with multiple choice questions you need to answer." The names of the presenter and his or her sidekick haven't been announced yet.
Groen and Bormans came up with more than one hundred questions, "that was quite a task." After a trial version, it was decided that participants will have fifteen minutes to fill in their answers. You can't scroll back. Cheating is possible though, since no proctoring software has been installed, but Groen advises against it. "Once you get to the finals after cheating, you'll lose face in front of everyone watching."
During the finals, SG program maker David Ernst, who is also a highly experienced online quiz master by now, will present viewers with questions on culture, science, history, media and much more. "It will resemble the intro quiz. That was greatly appreciated by people, we had 2,300 viewers. I'll also make it easy and fun this time." Anyone with a TU/e mail account can take part in the viewer quiz.
The SmarTU/est person will in any case be presented with a cup of eighty (!) centimeters tall. The prize that comes with it will be announced halfway through the 'season.' As of 9 November, the five quizzes will be available at this website from Monday to Wednesday. The website also keeps track of the halfway scores, which can be found on Instagram as well.