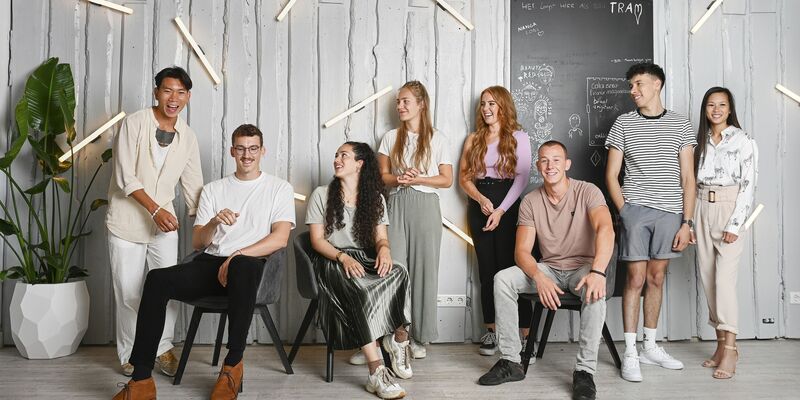 Eindhoven millennials share house for fifteen weeks for TV series
On the day that Selim Haase passed his Master's of Industrial Design and was wondering what to do next, a unique opportunity presented itself. The KRO-NCRV network suggested he take part in the program In Real Life, for which he would spend fifteen weeks sharing a house with seven other millennials. The result is a TV series starting on Monday.
The house - former offices - where Selim and his fellow twenty-somethings live stands in the Tramstraat, which is round the corner to the right if you're walking from the Effenaar. KRO-NCRV has designed the premises such that even with a camera crew in tow, the housemates could observe social distancing. Recording is now complete and the house-share too is almost at an end. The housemates leave 'Tram Osso' on Friday.
"It was a really cool experience and if I had to sum it up in three words I'd choose: friendship, positivity and intense," says Selim over the phone. The friendship is lasting, he thinks. "With each person I built a special bond. We are all twenty-somethings, but all different. Some work from nine to five, others are studying, others are looking for work. My topics of conversation with Juul van Geleuken, who was finishing up a Bachelor's in Applied Physics, certainly included TU/e and studying there."
True picture
Selim cannot compare this period with living in a student house because he's not had that experience. "Throughout my entire university study I was living with my mom in Helmond. I did not want to leave her alone after my dad died when I was eighteen. We help each other a lot. It fell to me to pick up some of my dad's tasks, household admin and the like."
His closeness with his mother, who can also been seen in one episode, is one of reasons why Selim wanted to study at TU/e. He graduated in mid-July, having developed an innovation in the music industry. "I designed a product so that rappers can add sound effects themselves during a live show."
Selim works as a music producer under the name The Kid Selim and for the past three months he has also had the film crew following his every move, six days a week. "It almost felt like having two jobs." He is keen to stress that the broadcaster gave the millennials complete freedom and did not hand them a script to follow. "Generally, on a Friday we'd let them know our plans and the film-makers would - or wouldn't - agree to them."
Belief
No themes were imposed by the broadcaster. The episodes will air chronologically and each episode shows one week's activity. What makes the program good, in Selim's eyes, is that each participant brings a personal history. "And you really see each housemate develop. Speaking for myself, I learned to live with several people my own age. And another first for me was being the only Muslim in this new domestic situation, and the only person practicing a faith. I now know how to deal with this and how I can share my experience of faith with others. You can see this process unfold in the series."
Most evenings the housemates ate together and the music producer, by his own account, discovered a passion for cooking. The fifteen weeks flew by, Selim feels, "but when I think back to everything that happened, I was having an incredible number of experiences." He has not yet seen the footage. Starting next week, he can sit down with his mom and watch the record of this "intense domestic experience".
Anyone keen to know more about life in the Tramstraat and behind the scenes is welcome to mail Selim. He is happy to talk about his experience.
In Real Life screens from Monday November 16th every weekday evening at 7.25 p.m. for three weeks on the NPO 3 channel.