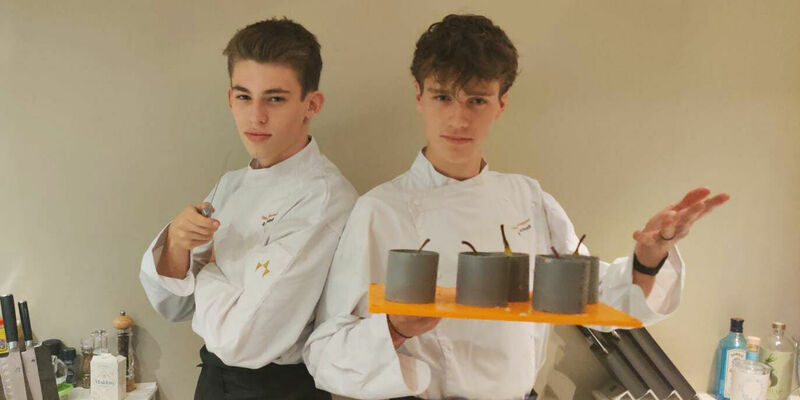 Masterchef returns corona-proof to Intermate
From fantasy stones to cooked pears in saffron bavarois: participants in the InterMasterchef competition run by study association Intermate were pulling out all the (culinary) stops right from the first round to secure a place in the final, due to take place in a couple of months' time. Co-deviser Bert van Gestel privately hopes that the as yet inter- (and corona-proof) association contest will one day have a TU/e-wide successor.
This is not the first time that Intermate has challenged its members in the kitchen. A few years ago, amidst jubilee celebrations, the study association at Innovation Sciences also held a Masterchef competition of sorts, inspired by the television program of the same name, says Lustrum Committee member at the time Van Gestel. Participants were served wide-ranging culinary challenges, ranging from the familiar Mystery Box (containing, among other things, a crazy ingredient that had to be magicked in the space of two hours into "the star of a dish") to making a dish with a particular color as its theme. "That event was greeted with such enthusiasm that now we thought: can't we rejig this to create a corona-proof activity?"
Seven teams are taking part in InterMasterchef 2020, and some of them are choosing to set the bar a little higher than is strictly necessary. Thus, the Double Hammer Trouble team is convinced that everything in the kitchen can be done with a hammer, the Goe Gebakken Gerda team is so charmed by pumpkins they'll add them to every dish if they can, and Wijn Na Bier Is Plezier hopes to add a different wine to each successive dish, "to broaden the flavor profile," explains Van Gestel.
Three weeks ago: seventeen teams eagerly sink their teeth into the first challenge; five jury members then sink their teeth into the impressive mountain of sweet refreshments that are produced. "Seventeen desserts, all loaded with sugar; we were wrecked," admits Van Gestel, laughing.
Read on below the photos.
Judging on Twitch
The teams prepared their dishes at home (within the budget set by the association, to prevent any unfair competitive advantage). The jury members then collected all the culinary delights (in food boxes) and discussed and assessed them via a live stream - rigged up spontaneously - on Twitch. The broadcast was then embellished with each team's short film, a minute's exposition of what they had made and how they did it.
Van Gestel expresses surprise at the standard and originality of the entries. "One team, for example, had used cooked pears in saffron bavarois (see wannabe-masterchefs and first round winners Samuel and Siem in the top photo), another team had made fantasy stones." So it was hard to judge, the jury member tells us. "You have a dish that looks great up against a dish that is technically very good. We rank everything against our list of criteria and this helps us give points as objectively as possible."
Seven teams had to leave the arena after the first round; the ten remaining couples are this week throwing themselves into the second assignment, which has required the presence in the kitchen of not themselves but the jury: each team is presented with the same dish and they have to guess its twenty-five ingredients. Every correct ingredient earns them a point, but haphazard guessing is not advised; every mistake earns a penalty point. The herbs used are particularly difficult to guess apparently, notes Van Gestel, based on the first answer forms received.
After this round another three teams will be eliminated; those who manage to survive past this point have another four rounds to go. And they should mentally prepare themselves for unexpected turns, Van Gestel warns. "The adaptability of the contestants gets a little tested."
Both as safe and fun as possible
In the meantime, the adaptability of the brains behind the competition is also being tested; almost week to week they are assessing what is possible and allowed in the light of the changing corona measures. "We are doing everything as safely as possible but, of course, we want to make it as much fun as possible too." The final will be probably be in March, but for now a big question mark hangs over the scope and form it will take - although 'backstage' there are ideas aplenty, Van Gestel reveals.
At any rate, says this enthusiastic jury member, the competition provides a great example of how associations can organize appealing and exciting activities, even during a pandemic. "As a matter of fact, this is quite an easy activity to arrange." And if it weren't that this master's student of Innovation Management has the final months of his program ahead of him, he would have liked to have done his best to make the Masterchef competition into a TU/e-wide activity "in which each association enters its best chefs. I think that would be amazing."