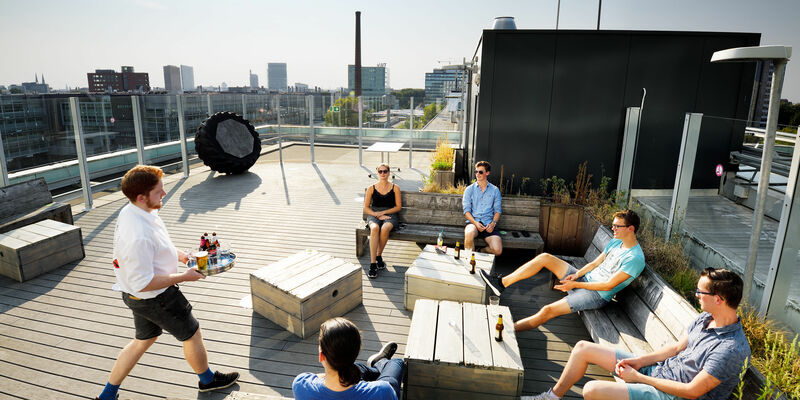 Confusion over drinks parties: communication could be improved
As they apply to the study associations, the new corona rules are sowing plenty of confusion where the opportunities for gatherings are concerned. What is allowed and what not? Cursor dived right in, asking around to locate the source of the confusion. Good news: drinking outdoors is allowed again, with a beer in hand.
Inge Sanders of TU/e's Conferences department explains the confusion that arose last week following a series of announcements made by the municipality of Eindhoven, each one coming hot on the heels of the last. Thus, drinks parties outdoors were first allowed, then not, then again got the green light. And that's still the current situation: drinks parties may be held outdoors, with alcohol and with up to forty guests.
Indoor gatherings may also be held, but without alcohol and with up to thirty people, provided the guests keep sufficient distance between themselves. And the department in question must give its permission; that cannot be taken for granted. David Reus, president of the F.O.R.T. (Japie's bar) committee, knows that the Department of Chemical Engineering and Chemistry is allowing no drinks parties in the F.O.R.T. in Matrix before January.
Surprise
A quick poll reveals that despite the reinstatement of the outdoor drinks parties, some associations are not hosting them. When Cursor called and spoke with Reus from F.O.R.T., he appeared surprised that outdoor drinks are again allowed. "No, really?" And with alcohol. "Really? Well, then we'll return to our old format (outdoor drinks, ed.). But I must say, we haven't been informed of this by mail or any other means."
Study association Thor at Electrical Engineering is not having any outdoor drinks parties. The decision to stay indoors, even though it means forsaking alcohol, was not difficult, says Mike Zanderink (prospective Thor commissioner). "Indoors we aren't dependent on the weather and don't need to keep to putting out all the tables and chairs, and taking out the drinks. We hold a drinks party every day and, what's more, we have the luxury of a roof terrace."
Because a drinks party without alcohol is perhaps a little spartan, Thor is now bolstering its event with a social activity. "The first evening we screened a movie and served hot chocolate. We are also looking for board games that can be played at 1m50 and we are considering a mocktails workshop. We think it is important to give students somewhere they can make and maintain their social contacts, where they can take a time-out from their studies. We also hope to prevent them feeling lonely. No alcohol is a shame, but right now the social aspect is more important."
Communication
Commenting on the information being provided by Conferences, Zanderink says, "It's difficult for them too, the rules keep changing. On Tuesday we heard that no alcohol was allowed, Wednesday we saw that alcohol was allowed at outdoor drinks parties, Thursday we heard it had again been banned, on Friday it was allowed. Who wouldn't hesitate before declaring what is and isn't allowed? If we want to know the lowdown on something, we call Conferences ourselves."
Max Opperman of study association GEWIS (Mathematics and Computer Science) also found the quickly changing rules presented some challenges, "but at the moment (Monday October 5th, ed.) they seem fairly settled." He explains: "Right now we are still allowed to work in Het Dakterras (the GEWIS bar, ed.), so nothing has changed here. Our members can also study here and do their committee work. We are keen to continue like this so that we can give our members the opportunity, within the rules set by RIVM and TU/e, for some social interaction."