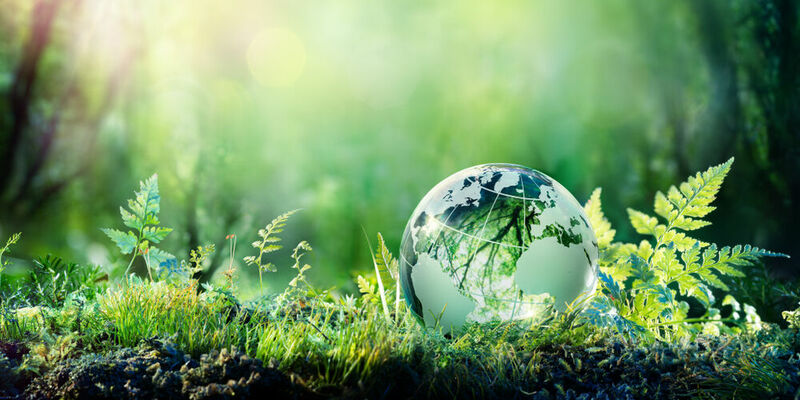 Sustainable inspiration during online Green Week
The upcoming Green Week – 19 April is the start date – will both inspire you to do your bit for sustainability and will paint the bigger picture of a circular economy. Amy Pelders of GO Green Office TU/e, one of the organizing parties, speaks about the program, which will take place entirely online. Among the planned events are the documentary about Greta Thunberg and a Q&A with the director, a session with former DSM CEO Feike Sijbesma and a cook-along with the Vegan Student Association.
After the last Green Week was held in October 2019, 2020 passed by Green Week-less thanks to corona. A shame, but the hiatus has given this themed week the chance to come back stronger than before: as well as GO Green Office TU/e and Studium Generale, the organizers now include Technology for Global Development (TGD).
Whereas GO Green Office puts the focus on making TU/e more sustainable, TGD encourages the broader achievement of the seventeen UN Sustainable Development Goals, number 13 of which is Climate Action. Both these perspectives – What can we ourselves do and what needs to happen on a bigger scale? – are represented in the program of Green Week 2021.
Everything online
With its slogan Find the green hero in yourself, Green Week dovetails nicely with TU/e's lustrum year and is keen to provide the inspiration we need to actually uncover that green hero lying buried in each of us.
All Green Week events will be held online due to the corona restrictions. "Everyone is welcome to take part: students, employees and externals," student Amy Pelders (20) of GO Green Office emphasizes. "We feel it is important to inform and inspire as many people as possible, and so all the activities are free."
Much to Pelders' regret, one of the planned events cannot take place at all, not even online. "This is the festive opening of the Green Room, on the ground floor of Atlas. We want to use this space for events and to exhibit the work of, say, student teams with a sustainable objective. This will give sustainability a permanent and visible place on the campus." Owing to corona-related factors, the delivery of the interior that was ordered has been delayed. The new (target)date for the opening is May 20th.
Purpose economy
Green Week kicks off on Monday April 19th with a lunchtime lecture given by Kaj Morel, lector at the Avans Expertise Center for Sustainable Business. He will be talking about the purpose economy, one element of which is true pricing, which reflects not only economic value but also the social and environmental cost of a product.
Then, on the Wednesday and Thursday, April 21st and 22nd, there are lunchtime sessions with Feike Sijbesma (until recently CEO of DSM) and Robert Metzke (head of sustainability at Philips). "They can tell us how companies are applying in practice the theory Morel discusses," says Pelders, who is looking forward to these sessions. "The economy – along with our way of thinking and values – needs to change fundamentally. Big companies like Philips can help bring about long-term change."
Green heroes
Not, it must be said, that you have to become the CEO of a multinational before you can change the world. You can also start with yourself, as Green Week shows with some inspiring examples. Such as the Studium Generale screening on Monday April 19th of the documentary I Am Greta, about the young Swedish activist Greta Thunberg, followed by a Q&A with the director Nathan Grossman.
That sustainability need not be at the expense of a hip wardrobe we learn from influencer Diana on Tuesday April 20th. "Diana is a Dutch YouTuber who loves fashion but also wants to lead a sustainable life. She gives tips on how you can combine these two things by, for instance, shopping for vintage clothing," says Pelders.
On the same day there is a session with the American activist and adventurer Rob Greenfield, who describes himself simply as a 'dude making a difference'. He draws attention to sustainability issues in ways that capture the imagination, by, for example, riding a bamboo bike through the US or by carrying on his body all the waste he has produced in a month.
That inspiring examples can be found not only in Sweden and America but are also right here on the campus is evidenced by the panel discussion held on Thursday April 22nd, with six student teams and TU/e spin-offs pursuing a sustainable objective, namely: CASA, CORE, Energy, Solar, SOLID and VIRTUe. "To us, these students are green heroes. We are keen to hear how they are working towards their goal," says Pelders.
Burgeoning activists have the chance to round off the Thursday by joining in the discussion session hosted by University Rebellion, a group of students and university employees who are urging Dutch universities to adopt a position on the climate crisis.
Cook-along
Anyone keen to turn inspiration into deeds can sign up for the activity events in the Green Week program. One of these is scheduled for the Wednesday evening: a Vegan Cook-along hosted by the Eindhoven branch of the Vegan Student Association, a community with chapters in ten student cities.
The closing activity of Green Week, on Friday is the online Clothing Swap, offering the chance to exchange items of clothing and give them a second life. "The swapping takes place online; campus involvement has been streamlined to just the bringing and collecting of the items. We've planned it that way to keep everyone safe," Pelders assures us.
Green Week activities are now open for registration.