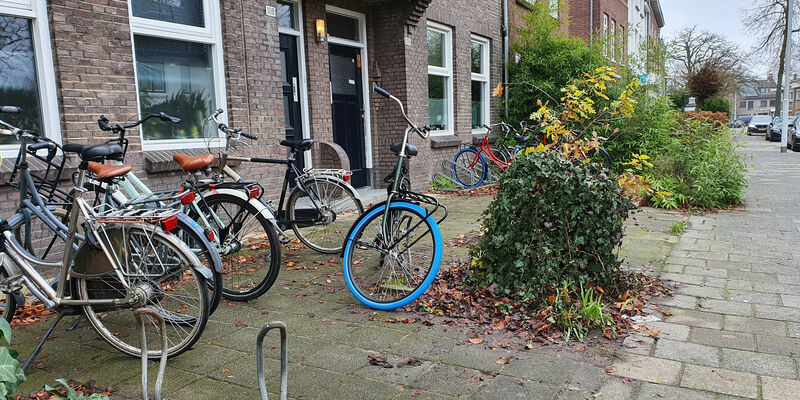 Be quick and get your student house legalized
There are still some student houses without rental permits that need to be legalized before the latest regulation imposed by municipality Eindhoven comes into force in 2022. This rule stipulates that a student house must be at least 30 meters away from another student house. There is a loophole, but few residents and house owners know about it. And so student faction DAS and the municipality held a social media campaign. What success has it had?
Since it was first proposed, the 30-meter rule has been the focus of lots of discussion. "Under the 30-meter rule, the municipality is going to stop issuing permits to new student houses if they are within a 30-meter radius of another student house. They want streets to be nice places to live and they think this will help. But it's not a great rule when there's such a housing shortage," says Joëlle Bink, DAS president.
The rule was introduced is May 2020, but at the same time a transitional arrangement was proposed giving tenants until December 31st, 2021 to legalize illegal houses. Proof that the room was already being used for letting before May 15th, 2020 is all that is needed - provided the let isn't a nuisance to the neighborhood. "Many students aren't aware of this and DAS, which has always focused on student housing, is keen to do something to change that," Bink says.
Together with the municipality, DAS has created an action plan, so that students know what the rules are and where they can go for help if they are unsure. They are encouraged to discuss with their landlord whether the matter has been properly taken care of. But is this actually happening?
Preferably anonymous
Despite reassurances from the municipality that no one will be put out on the street if their rental is illegal and remains so due to any other rules, few students are taking the step of officially making themselves known to the municipality. One student was prepared to share the following, but only anonymously: "Our living arrangement isn't exactly legal. The rent is paid monthly in cash and no contract has been signed. This means a couple of things. The rent is a little lower than other students are paying, but there are a lot of disadvantages. Things that a normal landlord would be required by law to arrange, often isn't done in our case. If something is broken, we are lucky that the landlord does help sometimes, but usually we have to fix it ourselves. What's more, we have no say in decisions the landlord makes, even if they impact us directly."
Unease
"We are seeing that students are afraid to give their name before the permit has been properly secured. The municipality says there's no reason to be fearful, and so they asked us to start a campaign. It was thought that students would be more likely to get in touch with a special point of contact than with the municipality's regular public desk. We have received a handful of reports from house owners. Another good step forward is that this campaign has set a number of students thinking, and they have asked their landlords for more information about the situation," Bink says.
Read on below the photo.
It's no mystery to Bink why house owners don't simply go ahead and apply for a letting permit. "An application costs money. If an application is denied, the status of that house is known to the municipality, and then the tenants are scared they'll have to leave."
The number of reports received by the municipality is not currently known. DAS has another meeting with the municipality on December 9th.
DAS is not disappointed by the low level of response. "Every student house that responds is a step in the right direction," says Bink, "and every student who starts a discussion about the legality of their house is a bonus."
Going into the new year, student housing will continue to be on the agenda. On November 16th on behalf of GroenLinks, TU/e alumna and councilwoman Eva de Bruijn asked questions about short-term solutions for the anticipated room shortage at the start of the coming academic year. De Bruijn hopes to have an answer within six weeks. She made subtle reference in her list of questions to earlier ideas that arose from the brainstorming session on student housing, ideas like living above stores, the use of Spaceboxes and living in neighboring municipalities using the bus lines to commute.