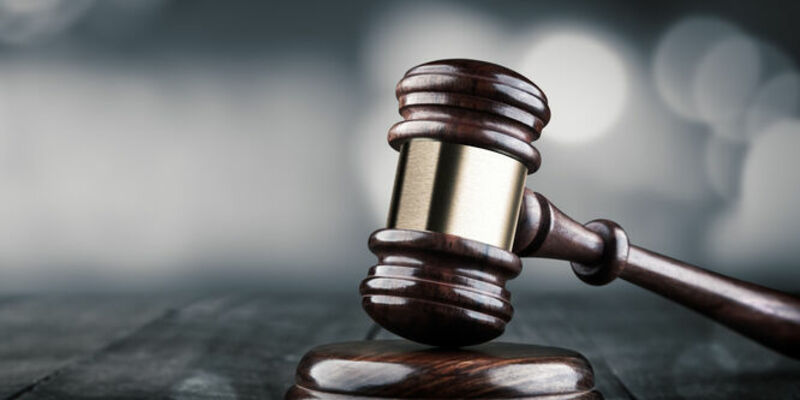 The University

10/12/2021
Protesters XR and UR penalized for chaining themselves
The court imposed a two-year suspended prison sentence and a €250 fine on four protesters of University Rebellion and Extinction Rebellion who chained themselves on the terrain of Wageningen University in May 2021. The protesters were charged with breach of the peace, on which the court made a ruling on Monday, December 6.
The court eventually followed the demand of thePublic Prosecution Service. The protesters had occupied a construction site and chained themselves to a crane and to the fencing of construction company Upfield. Other protesters climbed on top of a site hut. They managed to get access to the site by slipping through the construction fences, after which they chained themselves with lock-on pipes. These are arm tubes made of thick metal pipes that are very difficult to remove by the police.
Lawyer asks the court to acquit
The protesters' lawyer asked the court to acquit. "You're allowed to demonstrate. That right is protected from all sides. This was a peaceful demonstration. No property was damaged," the lawyer said. However, the court claimed that the protesters weren't allowed to enter the terrain under any circumstances, also not on the grounds of freedom of expression or the right to demonstrate.
Bram Boer, master's student of Sustainable Energy and Technology and Applied Physics at TU/e, was among the protesters. He is involved with both University Rebellion and Extinction Rebellion. Cursor asked him whether this trial had impressed him. "Yes, it certainly affected me. It's so absurd, because this penalty either silences you for a two-year period, or you run the risk of going to jail if you decide to protest anyway. If you consider all the things that need to change, doing nothing for two years is not an option. Protests are necessary, because governments and companies won't change by themselves. We are going to appeal the court's decision, because we don't accept this penalty. The court totally followed the prosecutor's demand."
The fact that Boer immediately took part in another protest, on December 9, proves that he isn't deterred. This time around, he wasn't chained on an off-limit terrain though. Instead, he sat on the floor of the walkway between Metaforum and Gemini on the TU/e campus. "They fear of being penalized personally means less to me than the fear of the consequences our planet will face if we don't address the climate problem."
XR & UR
Extinction Rebellion (XR) is an international movement with many local groups that organizes strikes and protests calling for action against climate change. They want to call attention to this problem and aim to convince governments and multinationals to behave responsibly and to be aware of their position of power. University Rebellion (UR) is a branch linked to Extinction Rebellion and unites itself at universities. There are thirteen UR groups in the Netherlands, including one at TU/e.
The protesters want, among other things, all universities to cut ties with multinationals such as Unilever, Shell and FrieslandCampina. They fear that these large companies will influence education and research activities, and that universities make themselves and their research vulnerable to financial interests.