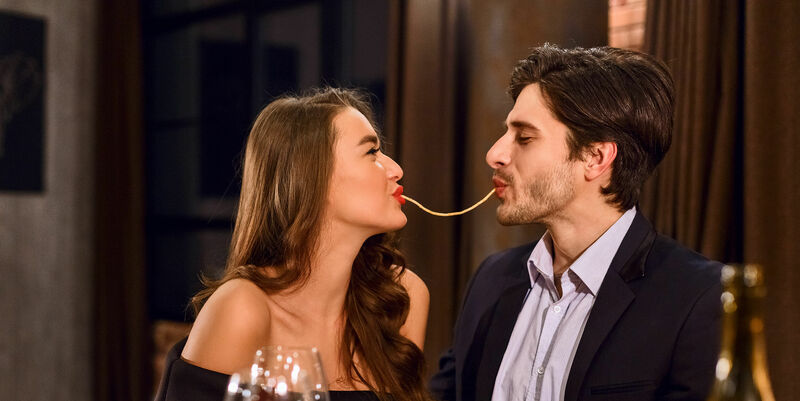 Student

,

Campus

05/02/2021
Pick up your Valentine's dinner at Hubble
Corona deals a death blow to love: flirting in a bar is not an option, never mind a romantic date in a restaurant. Hubble Community Cafe and student diversity officer Lara Hofstra felt moved by the plight of lovers. On Valentine's Day (would-be) couples can collect a takeaway dinner from Hubble. The cost is low and the meal is for two. Pink bubbles are optional.
"At parties, in the sports center, at lectures – under normal circumstances love can blossom anywhere. But now everyone has been sitting at home alone for almost a year. I think that many students and employees miss being hugged. Or simply having a good talk face to face." In view of this, Valentine's Day seemed to Lara Hofstra, TU/e's student diversity officer, a fine opportunity to give anyone feeling smitten a helpful nudge. Dreamed up together with Hubble, the community cafe in Luna, "This Valentine's dinner is a good excuse to finally invite that promising Tinder match or secret crush over for a date."
Likewise, new romances and couples who have been happily married for years are also welcome to reserve a dinner by February 9th the latest, provided a TU/e email address is used to make the booking. "The university is lending a helping hand financially, so that we can offer the dinner for two for just ten euros to students and employees," Hofstra says. For fifteen euros, your meal comes with a bottle of brut rosé.
Lady and the Tramp
For a similar initiative held in the festive season, Hubble's chef made sixty TU/e people happy with a chic takeaway dinner. "I hope that this time we can give at least thirty couples a wonderful evening," Hofstra says. If you are spending Valentine's Day – a Sunday – unromantically in the company of your parents, you can have your date one day later, she points out. "Then you can collect the meal on Monday, February 15th."
The three-course dinner is made for sharing. One of the options for the main course-for-two is spaghetti and meatballs, so that you can initiate your own Lady and the Tramp-style spaghetti string kiss. And if you snap a photo of this – or any other photogenic moment during your dinner date – you'll have the chance to win another romantic dinner, to be claimed as soon as Hubble is able to re-open its doors. So fingers crossed your amour has not cooled by then. "But you can also come as friends," says Hofstra, laughing.