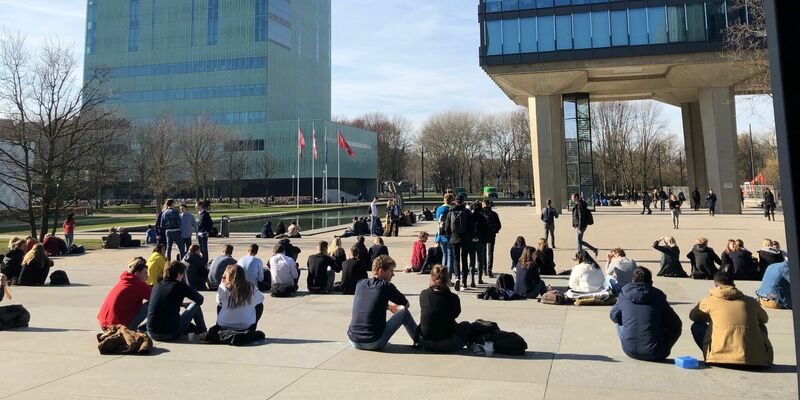 The University

,

Research

10/02/2021
How can we safely return to campus?
Fontys, Summa and TU/e submitted a joint proposal to the Ministry of Education, Culture and Science (OCW) for the launch of a pilot with new methods to test and trace COVID-19. The idea is to let symptom-free campus visitors fill in a daily questionnaire and to combine this with saliva tests on a regular basis. The primary aim is to start organizing more on-campus activities.
The government invited educational institutions to submit plans in order to return to physical education, and it encourages collaborative efforts. What's special about the situation in Eindhoven, is that Fontys, TU/e and Summa are all (partly) located on the university campus. Fontys organizes the project and acts as lead applicant of the joint proposal, which was submitted last week and is set to cost between four hundred thousand and five hundred thousand euros.
Triage, testing and tracing
"We want to 'test intelligently' with speed but without a rapid test," says Anne Loonen of Fontys research group Applied Natural Sciences. She is responsible for the proposal, together with her fellow lecturer Joost Schroeber. "It's about triage, testing and tracing. We ask participants to fill in a daily digital questionnaire via an app. The green or red checkmark in that app will serve as a passport, indicating whether or not you're free to travel to a building on the campus. The essence is: when you have symptoms, you stay home. Those who come to the campus will be asked to spit in a small tube every four days. The saliva will be tested for the presence of the virus with a normal PCR test."
This testing method, which is not a rapid test because the result doesn't follow immediately, will be used to monitor the presence of any infected people on the campus. Pooled samples testing will take place at the Fontys Life Sciences laboratory. It can't be said at this point how large those pools will be. "We are still investigating whether we will test between five and ten tubes simultaneously, or an even larger number," Loonen says. Phase three of the concept is tracing. "With a positive test result, all tubes will be tested one by one. The material is still in the lab, and the identities are known to the institutions. People who tested positive for corona will then be referred to the GGD."
Joost Schroeber points out that the method is safe: "Students will work with the samples as part of their traineeship or graduation project, but we will immediately heat the samples to 94 degrees Celsius so that the virus is no longer active." He also stresses the anonymity of the test, because barcodes will be used instead of names, and because it has practical advantages for participants. "People will not have to stand in line here at the entrance of a building, as they might have to with rapid tests, we don't insert an uncomfortable cotton swab in your nose and throat, and it can even be used for testing elementary school children."
TU/e develops rapid saliva test
The consortium's proposal is based on the idea of known, easy-to-trace populations. That is why Schiphol, for example, is an unsuitable test environment. Staff members and students who come to the campus only occasionally will still have to take a rapid test. This test is being developed by TU/e, in particular by the research group of Maarten Merkx, dean of the department of Biomedical Engineering, with funding from the Eindhoven University Fund (UFe). Merkx: "The test will be based on saliva. As long as we haven't validated that new test, we can still use traditional swab rapid tests."
OCW still hasn't decided which pilots it will greenlight, and whether pilots can be merged. "We hope to hear from OCW this month whether we can go ahead with our intelligent testing method," Schoeber says. Once OCW has given its approval, a first, small-scale pilot will take place at Fontys, in the Nexus building (former TNO building) on the TU/e campus, where all the required equipment is available for the laboratory program. "If that turns out to be a success, we want to expand the pilot to specific groups at TU/e and Summa."
Schroeber told Bron, Fontys's online news medium, that the method would also work at elementary schools, especially since molecular testing - which only uses saliva - is a less invasive procedure for children. But several questions still need answering first, the Fontys lecturer says. Including ethical questions. Children under the age of eighteen, for example, can't be tested without the consent of a parent or guardian. And what will education look like for students who don't want to get tested, and how will communication take place?
The software that will be used, nCrypt, is safe in any event, Schroeber says. "We work together with Scan Europe for this, a Helmond-based company specialized in software for medical data."