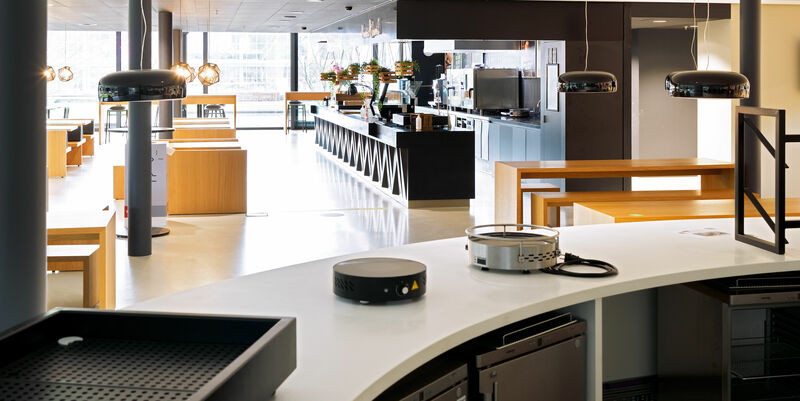 Corona

,

The University

,

Campus

07/01/2021
Further job cuts at caterer Appèl
After the round of redundancy in August, another twelve catering employees are forced to leave TU/e in the first quarter of 2021. Two of them will be able to continue to work at a different location, the others will lose their jobs. A social plan applies to these employees. Caterer Appèl, which faces a loss of turnover of ninety percent at the university, announced the compulsory redundancies in December.
"The fact that there is no turnover anymore, but above all the fact that there is no prospect of turnover," says Steven ten Cate as he summarizes the necessity of a second, drastic reorganization. As account manager at Appèl, he is responsible for the employees at a significant number of TU/e's catering outlets. He saw how the team of forty was reduced to only fifteen employees after thirteen people left in August, followed by another twelve during the latest round of redundancy.
"If we would have had that prospect of recovery on the horizon, we might have considered measures such as short-time working arrangements. But our current turnover at the university is ten percent of our usual turnover, and we don't except any significant change until the end of the summer. And if things don't improve as of September? In that case, Appèl will be faced with a very serious challenge."
Ploughing through
Both rounds of redundancy on the campus were part of Appèl-wide reorganizations. During the first round, 350 jobs were lost, and over a 100 people will lose their job during this second round. "I hope that I won't ever have to go through this again," Ten Cate says. "People don't just lose their jobs, but also their social contacts and the feeling that they matter."
Monique Kuyck, head of Operational Services at TU/e, also regrets the job cuts at Appèl. "Some employees had been working at the university for many years. This is something you don't wish on anyone." TU/e tries to help where it can, she says, "for example by being more flexible with contracts. But there is no work and the costs continue. How long can you continue to plough through? The organization that does the cleaning on the campus was also forced to reorganize recently."
No bright future
Two of the TU/e employees that were forced to leave will be relocated, a social plan will take effect for the remaining ten. Ten Cate hopes that Appèl still has sufficient knowledge, experience and manpower left with the fifteen remaining campus employees to restart when things improve. "Until that time, we want to try and deploy them at other locations or let them perform other tasks, such as quality control. So that they will remain active and involved."
And the future? "In terms of financial figures, we don't expect that the future will be a bright one for Appèl in 2021, but we'll probably manage. In the long term, we except that the new reality after corona – because of working from home – will result structurally in a turnover of seventy percent of what we were used to."
A calm start for Brownies&downieS
Brownies&downieS was among the last of the campus Mohicans to stay open until the lockdown started in December. The lunch and coffee bar that opened its doors in Atlas at the end of August is part of a chain of 55 branches and works with nine special employees, some of whom have Down syndrome or suffer from a severe form of autism, for example. Because of the special position of the team members, no forced redundancies will take place at Brownies&downieS.
"We worked comfortably during the first few months, without any expectations about customer numbers or turnover," says campus branch manager Pien Schepens. "We had time to get used to things, such as the international crowd at TU/e. Some of our employees were taken aback when people addressed them in English, so they said 'Yes' to everything. Now they know that it's better to call in someone else for help."
Since many other catering outlets were closed during the quiet fall period, Brownies&downieS still had a fair number of clients. "People reacted enthusiastically: they liked the brownies and our lunch menu, and clients who knew us already were happy to see us at the campus now as well."
Fortunately, the employees – or target audience, as Schepens refers to them – don't have to sit still during the lockdown. "Structure is very important to them. In our other Eindhoven branch, we offer them daytime activities with courses, roleplay and English, so that we will be able to help our clients even better after the lockdown is over."