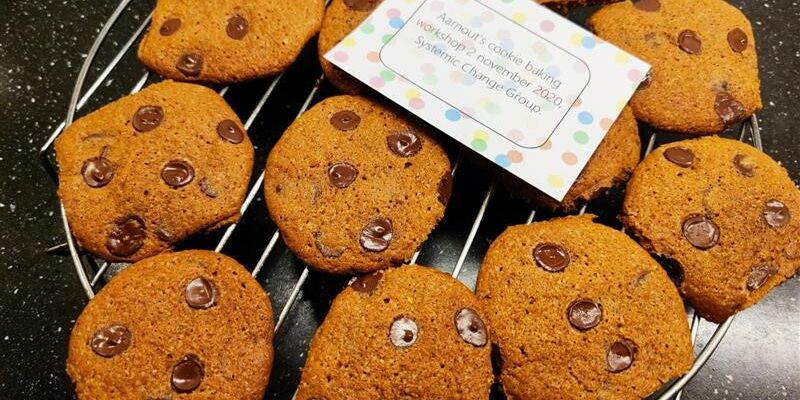 Corona

,

The University

12/01/2021
To keep alive the feeling that you have colleagues
Before the outbreak of coronavirus the Systemic Change Group at Industrial Design could mainly be found on floor 6 or 7 of Atlas. Colleagues often had a chat wherever they were working, or at the coffee dispenser or in the building's coffee bar or lunch bar, or in passing in the corridor. When everyone was sent home due to corona, the workplace took a back seat in the group's working life. How could they prevent the group falling apart?
Yet, for the Systemic Change Group at Industrial Design, social cohesion has increased rather than been lost during the period of homeworking; that's the feeling of office manager Marly Sluijsmans. She has studied the effectiveness of five different types of online activity in building community spirit and as an employee, she has also benefitted greatly from these activities. "There was one workshop I particularly enjoyed: Pierre's Japanese tea ceremony. We made real matcha tea, following the Japanese ritual, and we were immersed in Japanese culture."
The tea ceremony was one of the workshops that sprung up; all were hosted by members of the group. Another two of these clinics focused on wine tasting and baking cookies. In advance of the workshop, participants were sent the necessary 'tools'. Sluijsmans also thoroughly enjoyed the cookie-baking workshop given by the group's chair Aarnout Brombacher. "This one was really good fun because we had the chance - quite literally - to take a peek, as we say in Dutch, into our colleagues' kitchens. Children, partners and pets were all seen on screen. It made for a relaxed atmosphere and there was a lot of laughter!"
Ringing round
In November Sluijsmans wondered which social instruments might be useful during the corona pandemic; the final step in her HBO degree in Office Management. In the pre-corona period the only social activities held in her group (SCG) were an annual team excursion, a Christmas lunch and an Easter lunch. At the start of the intelligent lockdown, she and her colleague Anne Jeuken of Office Support called up all 65 employees in order to build a comprehensive picture of how they were finding working from home. "This revealed that a number of employees felt socially isolated and were missing the feeling of being connected with the group."
Friday afternoon drinks 2.0
In response, Sluijsmans decided to start various online activities. Like the fortnightly Open Coffee Table, a chance to catch up, open to everyone and with no set agenda. And Brownbag meetings at which research results are shared over MS Teams, in physical form already a familiar concept at ID. These meetings start with a personal note and conclude with an interactive session in which questions are answered.
A new activity occurring daily is View of my day. Here, someone's experience, told in pictures, is shared by mail. The subject matter may be either personal or professional. The group nominates the next contributor, so that every day a different employee is put in the spotlight. The photo above shows the story that Sluijsmans herself shared.
Purely for relaxation, SCG regularly holds an online pub quiz for which the Kahoot! app is used. "This means pondering general knowledge questions, but you might also learn some tidbit of personal info about your colleagues."
Involvement
In the heterogeneous group - SCG has ten nationalities - it was not the case that everyone took part in everything. "You'll always have some people who aren't keen on social activities, but that's fine. It is voluntary, after all," says Sluijsmans. But these are and will remain very important, she believes. "The personal approach - the first telephone call to learn the person's wishes, and a later call to tell about the activities - really helps boost the sense of involvement." She would like a database to be held somewhere at TU/e listing all the community-building initiatives, so that others can benefit. "I am sometimes called by people from other groups who have heard vague tales of our success. It would be good if we didn't all need to keep reinventing the wheel."
Collection
Hanneke Koppers, director of the Communication Expertise Center, applauds the idea of holding all the initiatives in one place. "The longer the lockdown lasts, the more important it becomes to maintain social cohesion but, simultaneously, the harder that becomes. In the next Corona Crisis Team meeting we are going to discuss how we will take this further."
An inspiration menu can be found via the general page about corona. It lists many of the initiatives (and much more besides).