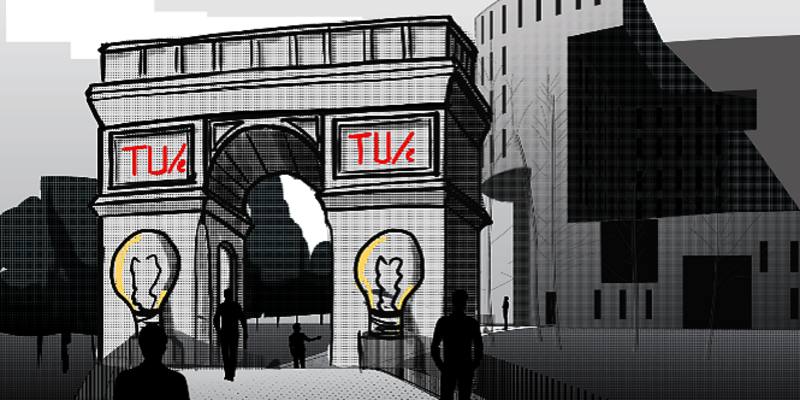 A triumphal arch on the Limbo path
As anyone watching the Tour de France knows, if you find a couple of heroes, a triumphal arch won't be far away. An arc de triomphe you can pass by in a show of bravura while crowds cheer you on. And as the theme of lustrum year 2020, Heroes Like You, tells us, we are all heroes at TU/e. And so a triumphal arch is coming to the campus. With a TU/e flavor: circular, a design all its own and the product of teamwork.
Just wait until Introweek and it'll be your turn. On the Limbo path, arms raised in a gesture of victory, passing through the lustrum arch. But don't imagine a colossus bearing the word 'finish', nor a monumental Roman or Parisian structure.
Minimuseum
The – temporary – arch marking TU/e's sixty-fifth year won't have a classical look, instead it will be a unique minimuseum. Floor de Jonge, president of Built Environment's association Cheops, tells Cursor about the plans. "Circularity is one of the principles adhered to in building the lustrum arch. And so we are using two wooden huts developed during an earlier project. We're connecting them and installing them on the Limbo path." The two huts were originally part of the SummerLabb pavilion. Built in 2014, this structure was already using recycled materials.
The floor of these huts also deserve the 'circular' stamp, De Jonge knows. "They are made of wood from the demolished Paviljoen, as are the ramps that make the arch wheelchair accessible." Each premises will house a small exhibition. One looking back on sixty-five years of TU/e history, the other looking ahead to the future heroic deeds in the field of academia achieved by people at TU/e.
Besides all this, the arch will also serve a communication function: lustrum activities will be announced here. Plans as to exactly how this will be done are still under development.
Collaboration
What makes the arch so 'typically TU/e' is that it is the product of collaboration. Working alongside the lustrum committee is the Innovative Structural Design group at Built Environment, in the person of researchers Faas Moonen and Floor van Schie.
Two study associations are also on board, De Jonge tells us. "The lustrum committee approached study associations Cheops and AnArchi (Architecture) looking for students keen to lend a hand. AnArchi president Kevin van Laanen and I were so enthusiastic that we ended up getting closely involved in the project ourselves."
Finally, the lustrum arch is also part of the Summer University. Students from all parts of the university keen to help with the build this summer can sign up. There is no lack of enthusiasm, De Jonge has observed. "So far we've been hearing daily from people eager to work with us."