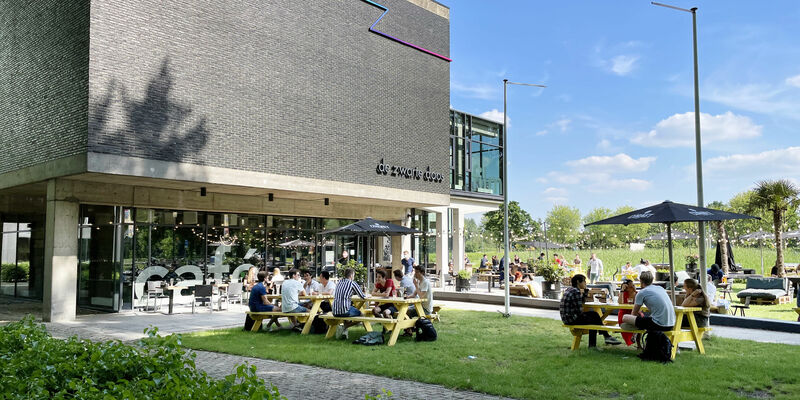 Campus

,

Corona

09/06/2021
Culture stops for the summer despite easing of rules
Movie theaters, museums and theaters can re-open. This means the campus can slowly resume its cultural life. Hospitality venues like Hubble have already opened their doors and now art cinema De Zwarte Doos is following suit. Studium Generale (SG) has decided to stick to its normal rhythm of a summer break starting mid-June and the team members will focus on the new activities in the coming academic year.
"We always take a summer break starting in mid-June. That's our normal rhythm and we're going to stick with this rhythm. Our focus is now firmly on September," says Esther van Kalken, program-maker at Studium Generale. But the summer break does not mean the organization is twiddling its fingers. "This week we'll be meeting again with the film committee to discuss the program we'll be screening in De Zwarte Doos as of September," explains Brit Thomassen, also a program-maker and the latest addition to the team at Studium Generale.
For the first quartile of the coming academic year the new program of SG has largely been decided on, Thomassen says. "In respect of our film screenings we'll be sticking with the old rhythm during the first quartile. This means we'll be showing the same film three evenings a week, and we'll be offering a new film every week. We'd like to hear from students what they think of this; we want to take them into account as we make plans." The film program will be posted online during the summer.
Lectures and musical performances
Likewise Studium Generale's other activities, such as lectures, workshops and musical performances, will be taking a summer break. "Naturally, we want to attract an audience and there are simply very few students on campus during the summer," says Thomassen. At the end of August, during TU/e's Introduction Week, the organizers will get the first activities underway so that new students can become familiar with the offering of art, culture and film on the campus.