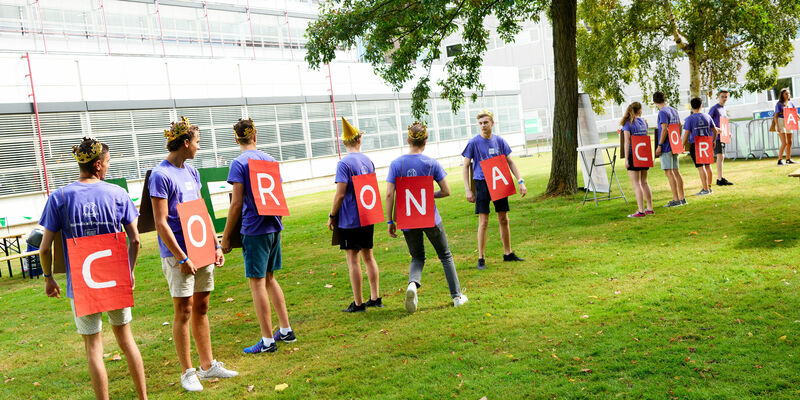 Intro 2020

,

Student

10/06/2021
Current freshmen get second chance at Intro
Freshmen who missed out on parties and socializing during their Introduction week due to corona restrictions, will get a second chance from October 7 to 9. During this time, a three-day Introplus for sophomores is set to take place, with special emphasis on these particular aspects. Getting to know the city (better) will also be part of the program, organizers Niels van Herwijnen and Jeanette Schoumacher say.
Intro 2020 took place in hybrid form due to corona restrictions: all 'offline' parts were held on the campus, where the large grass fields made it easy for everyone to keep a safe distance. However, going out, partying, getting to know crowds of new people and discovering the city of Eindhoven together was out of the question. "In the evening, there were some online activities at best," master's student Biomedical Engineering and Intro committee member Niels van Herwijnen says.
Education and Student Affairs (ESA), the service responsible for the Intro, found this to be a shame. After having met with the umbrella organizations, the Intro committee decided to send out a survey to all freshmen. The response exceeded expectations: half of a total of two thousand first-year students replied. Apparently, there was a great need for a second round of the Intro.
All or nothing
"What students missed most of all during Intro 2020, was a chance to get to know the city, student life, and each other," Jeanette Schoumacher of ESA says, as she summarizes the survey results.
"That is why we've scheduled Introplus in October. We also considered the time of year when the normal Intro takes place, but there's a good chance that not all corona restrictions will have been lifted by that time," Van Herwijnen explains.
Current freshman can go ahead and clear their agendas on Thursday 7, Friday 8 and Saturday 9 October. The official invitations will be sent to their inboxes next week, after which registration starts.
New first-year students who can't take part in Intro 2021 in the unlikely event of a quarantine, will receive an invitation for Introplus. The organizing committee expects between 750 and 1000 participants, but that's a cautious estimate.
And what if the resourceful virus still causes problems next fall? In that case, new dates will probably be set. "There's no point if we can't offer students what they've missed," Van Herwijnen says: "This time around, it's all or nothing."
City Tour
What will Introplus entail? The program isn't final yet, but it starts on Thursday and Friday after lectures are over, with activities organized by study associations. Thursday evenings, the student's evening par excellence, will be spent partying in Eindhoven's city center.
Saturday is the day of the City Tour. Small groups of students go into the city to visit student associations and museums, among other places. Guides will meet them at special locations in the city to tell them interesting stories about Eindhoven's history.
In conclusion, Van Herwijnen would like to divulge that the highlight of Introplus – a big party – will take place in the Klokgebouw. A nice consolation after an Intro – and a year – marked by corona.