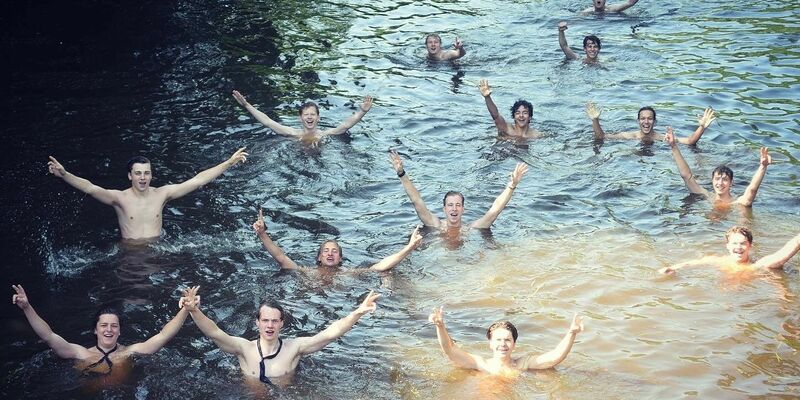 People

,

Student

21/06/2021
TU/e student organizes charity event with his year club
Thursday June 10th was the day they had all been waiting for. The day TU/e student Elano Franken and his fellow members of Prestige, part of the Eindhoven Student Corps would jump in the River Dommel. This marked the start of a charity event held in memory of his sister, who recently passed away. In all, the sum of five thousand euros was collected for children with cancer in Kenya so that they too might have the chance to exercise and play sports in hospital.
"My sister Alicia died last year aged fifteen. She was always the fastest on the hockey pitch, but then suddenly she fell ill and it became clear that she had an aggressive form of bone cancer," tells Elano Franken, first-year TU/e student of Sustainable Innovation. Franken explains that during her stay at Princess Máxima Center, Alicia came across the Outreach Program of World Child Cancer. "It's a program that helps children with cancer in poor countries, including Kenya. My sister decided to support this program so that these children too would have the chance to take exercise." Helping others has always been in the picture. "Before this my sister and I had organized a donation campaign for underprivileged children in Columbia. That was a fabulous experience."
30 thousand euros
For the Outreach Program, Alicia turned to her school, ORS Lek en Linge, which was immediately keen to collect money by hosting a run. "A week before she died, Alicia was still spurring on her classmates. After her death, her hockey club continued this campaign, together with our parents." All this activity pushed the counter up to 30 thousand euros. As he started his degree at TU/e, Franken was preoccupied with the idea of continuing the campaign. "So I asked my jaarclub (year-group club) whether they wanted to join me in putting on a charity event and everyone's immediate reply was wholeheartedly 'yes'."
And that wasn't the end of it: the whole association was enthusiastic about the campaign. And so it became a real occasion for teambuilding and coming together after the strict lockdown period. The enthusiasm shown by the E.S.C gave Franken and his family a boost. "My fellow club members never knew my sister so it was wonderful to see how everyone made such an effort for her like this. In this way Alicia's strength, passion for sports and love of life live on."
Cool plunge and sponsored run
June 10th started with a beer and a dip in the Dommel, after which the students set off on their sponsored run. "We were all wearing a T-shirt with a QR code. If you scanned this code, you could donate an amount." The student's route took them all over the city and they stopped at the various dispuut (interyear club) houses to collect donations and do challenges to collect yet more money. "Being part of this was truly heartwarming. I am very proud and happy with what we have all achieved together." By the end of the day the jaarclub had covered a lot of kilometers. "Everyone was really tired, but very pleased."
The money collected will go to the same Outreach Program and including the charity event, the counter now stands at 35 thousand euros. "I'd like to go to Kenya some day and see how they are doing thanks to our donation and to see what else we could maybe do to help."