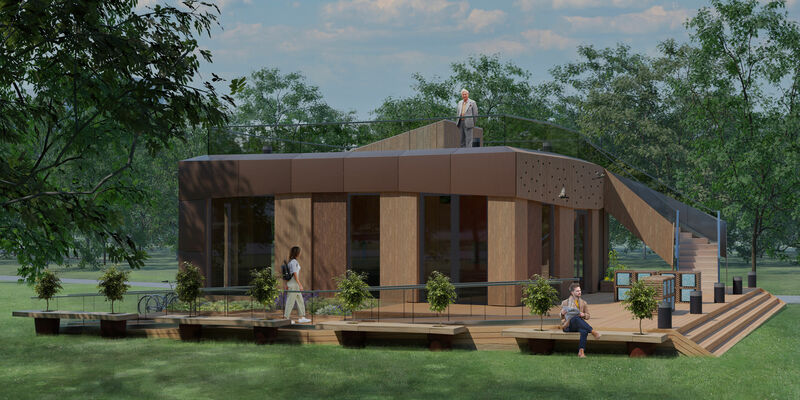 Campus

,

Research

28/06/2021
Drivers of Change Expo is looking for designs
Drivers of Change is the annual exhibition during which TU/e presents its latest inventions to the audience of the Dutch Design Week (DDW). The previous edition had to take place online due to corona, but this year's program once again features a 'real' exhibition, scheduled to take place between October 16 and 24 in and around the Atlas building. Moreover, the festive opening ceremony of the DDW – the twentieth edition – will take place on campus this time.
Engineers are a peculiar type of designers. "Broadly speaking, much of what takes place at TU/e is design. But since the application of their inventions in society is their main priority, our researchers take a different attitude towards esthetics, which they believe should be at the service of functionality," says Lucas Asselbergs, project leader of Drivers of Change.
Recent editions of Drivers of Change have however amply demonstrated that TU/e's designers are capable of creating beautiful and highly interesting objects. But generating enough attention for every single exhibit remains a challenge every time.
Asselbergs: "Not all designs have a protype that you can put on display. Think of online systems or data-driven tools. How do you make these visible and tangible to the public? We want to display exhibits that are self-explanatory without the use of too many words."
Cross-fertilization
The 2019 edition of Drivers of Change took place on Strijp-T, and last year's edition was held fully online due to the corona measures. This year, all systems are geared towards a real, 'live' exhibition on the TU/e campus. Asselbergs: "Drivers of Change is scheduled to take place between October 16 and 24 in and around Atlas, with temporary exhibition spaces outside."
The university will also host the festive opening ceremony of this year's Dutch Design Week (on Friday evening, October 15), on the occasion of the twentieth edition of the DDW and TU/e's 65 anniversary. "It will be a great festival of cross-fertilization between the worlds of design and technology. It's a great opportunity to show the many crosslinks between design and technology," Asselbergs promises.
TU/e and DDW share a long history. "In the past, the university used to organize an annual Design Day, which developed into the Week of Design, a forerunner of the DDW, with which TU/e has been involved since the early beginning." Both organizations will therefore also celebrate two decades of collaboration.
Pandemic
Because it will be October before you know it once summer recess is over, the organizing committee of Drivers of Change wants to have everything ready before the summer. The past few weeks have been busy and exciting. "We are curious to know what projects people will submit: were researchers able to continue with their work and complete a prototype, despite corona restrictions?"
Asselbergs is also curious about the common, overarching issues of the projects. "The projects often provide solutions to issues that are part of wider challenges in society, such as sustainability and climate, data traffic and privacy, and healthcare (think of self-monitoring). Naturally, this edition's big question is: will we see the influence of the pandemic reflected in the projects?"
Wide audience
TU/e researchers in all fields with a relevant design – preferably with a protype that is completed or still in development – are invited to submit their projects for Drivers of Change 2021.
Participation in Drivers of Change offers designers an important opportunity, Asselbergs emphasizes: "The DDW attracts a wide audience. Where else can designers talk directly to the end-users of their innovations?"
Depicted in the main photo
Team VIRTUe is one of the participants in Drivers of Change 2021. Visitors of the DDW can get a tour of the team's demonstration house in the field of sustainable living. The house also has a social area where visitors can attend workshops, among other things. The living unit will be built on the campus during the coming months.