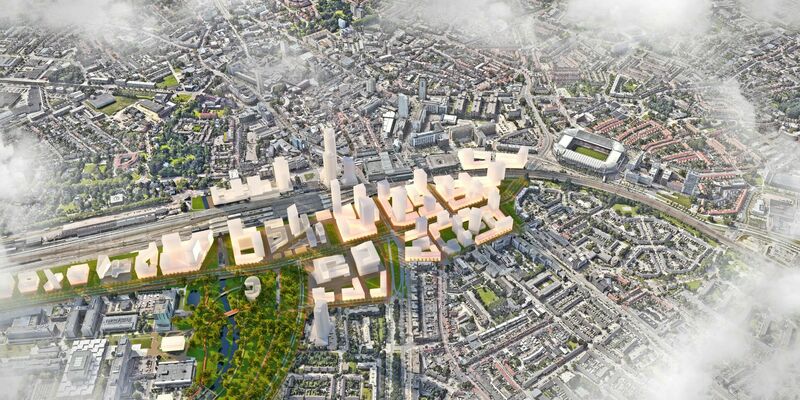 Digital twinning is SimCity with real cities
Traffic, energy use, home ownership, air pollution, you name it, we've got data on it. Current or even real-time data. Bring all these data together and as a government you have every opportunity to produce robustly substantiated plans in the spatial planning domain. This is exactly what TU/e professor Pieter van Wesemael is keen to do in cooperation with partners, among them the municipality, for Eindhoven's city center and Knoop XL (the area around the station, situated between PSV's stadium and the Berenkuil traffic junction). But in the form of a 'digital twin': a scientific version, as it were, of the game SimCity.
"All the major societal issues now facing us have a spatial component. Take, for example, climate change, which causes heat stress in cities; and with the transition to renewable energy comes the need for new infrastructure, including wind turbines, solar panels and neighborhood batteries for storage," explains Pieter van Wesemael, professor of Urbanism and Urban Architecture.
In addition, more and more of us are now living in an urban environment, he says: "Right now half the world's population lives in an urbanized environment, in twenty years' time we'll be at about 70 percent. And those are global averages; in the Netherlands the percentage is higher." This means that many people are living in conditions of rising population density, which inevitably gives rise to conflicting needs that in turn present complex design and planning challenges. These data provide the basis of the collaboration embarked upon by TU/e, the municipalities of Eindhoven and Helmond, Brainport Development and the Fraunhofer Institute ("Germany's TNO"), which is going by the name of Urban Development Initiative (UDI).
If we want to ensure the planet is still habitable for our children and grandchildren, then it is time to make fundamental changes. Cosmetic solutions just won't cut it, says Van Wesemael. "As Built Environment we want to take our responsibility for this, together with our sister departments, starting with our own region."
Hence UDI, which is intended to become a permanent platform. Working within living labs, the parties will break down societal issues into concrete, well-defined problems for which they then seek innovative solutions. "A special feature of the cooperation is that as well as Brainport Development, municipalities and TU/e, citizens also have a structural role. In this way, the triple helix, as it is known, of industry, government and knowledge institutions will be extended to form a quadruple helix."
Digital twin
Cooperation in UDI has kicked off with programs on three themes: the urban energy transition from fossil to renewables; the transition of the construction sector to Industry 4.0 (involving what's known as cyber construction, made possible by technologies such as 3D printing); and the Digital City Program.
Of the three, the Digital City Program is the most advanced in its development. As part of this, digital twins are being developed for Knoop XL, the area around Eindhoven's train station, and for the Brainport Smart District, situated in Helmond's Brandevoort neighborhood.
So what then is a digital twin? Anyone who knows the computer game SimCity, in which you build a city, already has an idea. A digital twin is a digital copy of a building or urban area. "Just like in the game SimCity, you can mark out roads, install energy systems, designate functional zones and move buildings."
"But," says Van Wesemael, "the Digital City Program is SimCity to the nth degree." In spatial planning, it used to be that surveys generated statistics that were used to produce a prognosis, based on which decisions were made. "Today, by contrast, real-time data is gathered in countless fields: energy, home ownership, air quality, mobility. These data can – in principle – all be integrated in the digital twin, which creates the possibility of carrying out data-driven scenario studies and arriving at strongly underpinned answers to spatial planning issues."
Insanely complex
Urban planner Van Wesemael gets a gleam in his eye when he talks about all the possibilities: "Residential, work, shopping, green – it all comes together in digital twinning. The technology makes it possible to really co-create with citizens." You can see, quite literally, the consequences of a choice – like relocating a road – for a city. What's more, the built environment can be reconstructed exactly, with the right colors and textures, so that a digital walk through (or a digital bird's eye view of) a plan provides a realistic impression of the actual result.
But the immense range of possibilities offered by the software – the integration of countless data streams, the perfect design of the buildings – is both its strength and its weakness: ICT problems loom large, or to quote Van Wesemael: "this is where it gets tricky, because it is insanely complex."
So, there is still a long way to go before all the data available to the municipalities are integrated in the digital twins of Eindhoven's station area and Helmond's Smart District, but the 25-plus partners in this UDI project have made good progress. In Eindhoven the project is being led by Michiel Oomen, Innovation Program Manager at the municipality, and by Gamze Dane and Dena Kasraian at Built Environment, who bring with them a number of colleagues from various other departments.
Read on below the illustration
Out of the lab
Van Wesemael is delighted to see the municipality play a key role in the project. "This forces us to get out of the lab and into the real world. The municipality tells us which laws and regulations apply, sets the conditions governing the solutions, like sustainability and social inclusivity, and keeps us informed of the perception of the populace. All this makes us more innovative." In addition, the dialogue with the 25 partners based in ICT, consultancy, construction and the design sector clearly reveals what companies need in order to use the digital twin as a comprehensive planning tool.
For the municipality, which normally takes advice on each parameter – residential, mobility – separately, the comprehensive approach offered by digital twinning promises significant benefit. Van Wesemael: "We can consider the impact of an intervention on the city as a whole and make the best choice for people, planet and profit." Because when it comes to societal issues and spatial planning, everything is intertwined.
Van Wesemael: "The transition to electric driving, for example, impacts not only mobility and the design of the road network, but also the infrastructure of our energy systems. As more of our cars become electric, they become a bigger drain on the energy system powering them - which is the energy system designed to power our buildings. This is going to necessitate some radical changes in the urban energy infrastructure."
At the same time, we are seeing an upward trend in energy neutral construction, which in turn may result in homes being connected solely to a district heating system and, conversely, coming off the electricity grid. "A whole host of diverse scenarios are possible, and the Digital City Program helps us get a handle on them," concludes Van Wesemael. "The cherry on the cake is that the program even has the potential to predict future problems, in data-driven scenarios."