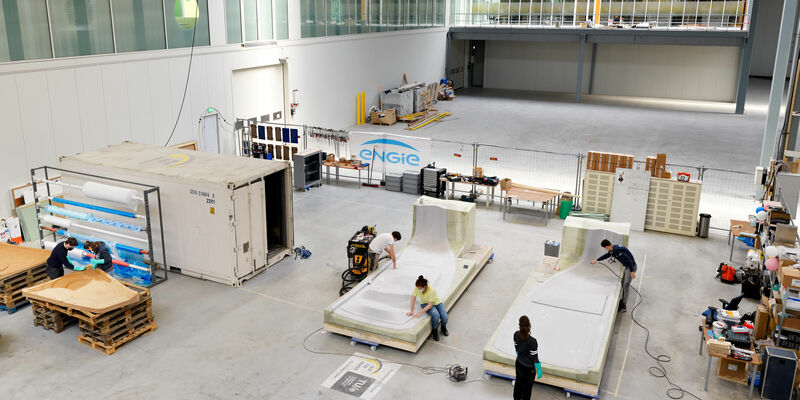 Solar Team Eindhoven combines driving and living in SHOW
SHOW is the name of the new mobile house brought to us by Solar Team Eindhoven. The 'Self-sustaining House on Wheels' (SHOW) has everything you would hope to find in a tiny house: sitting nook, sleeping quarters, kitchen, shower and toilet. "We hope it inspires the market to take the next step in self-sufficient living and driving."
This year's World Solar Challenge held in Australia has been cancelled. But this is not why Solar Team decided to produce this living space on wheels, says Tijn ter Horst, TU/e student Mechanical Engineering and Solar Team's PR manager. "We announced back in January that we would be coming up with something different this year, independent of the race and irrespective of corona. We have won the race on four occasions; it is time for a new concept. We want to stay ahead of the field." How will they be looking to achieve this? "By bringing together driving and living," says Ter Horst.
No ordinary camper van
The raison d'être of the mobile house, which expressly avoids the 'camper van' tag, is to inspire the market. "We aim to deliver something entirely new, so this is not just another camper van. This mobile house combines driving and living and its solar panels make it entirely self-sufficient in terms of energy." Care and attention have also been paid to the essential water supply. The vehicle carries both a clean water tank and a 'grey' water tank. As you would in any house, you can take a shower, cook a meal, recharge your telephone or visit the bathroom: SHOW has everything you need in a house and it even generates enough power to enable all these functions. As such, this vehicle is independent of the recharging infrastructure, a notion that is inconceivable for most electric cars, let alone for homes on wheels.
First goal - check
Ter Horst and his team are pleased with SHOW's progress and what Solar Team Eindhoven has already achieved. "Our goal has always been to inspire the market and wider society to take the next step in the domains of mobility and energy. And we're making headway. Just look at Lightyear, with their Lightyear One. That car will soon become available on the consumer market and its origins lie in Solar Team. When that happens, our first goal of inspiring the market to launch a more sustainable family car will be achieved."
Who knows where this sustainable living solution on wheels will take them. For the time being, it is only a prototype and as such its price tag is still unknown. Ter Horst has not had any calls from interested manufacturers, but it's early days yet. For now, SHOW is being built by student members of Solar Team at the Brainport Industries Campus in Eindhoven. The unveiling is scheduled for September.